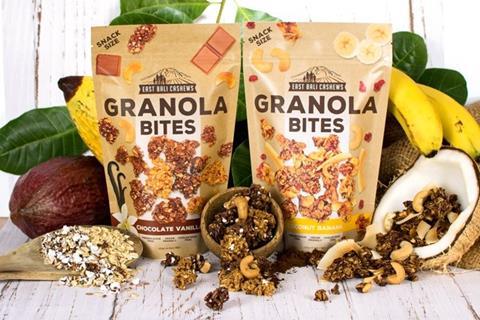 Social enterprise East Bali Cashews has gained its first supermarket listing in Sainsbury's.
Chocolate vanilla granola bites and coconut banana granola bites will hit 'Taste of the Future' bays on 7 June (rsp: £TBC/125g) as part of the supermarket's Future Brands incubator scheme for disruptive brands.
East Bali Cashews was founded by Aaron Fishman while working as a healthcare volunteer in the village of Desa Ban in rural Bali. The American established a factory in the village so that farmers did not have to sell the product abroad to be processed.
The social enterprise now has more than 400 employees in a region where work is typically scarce, helping the local community with sustainable employment, agriculture and education initiatives. It has quickly expanded from a few stores in Bali to now selling in-store and online across Europe, Asia and Australia.
"The launch with Sainsbury's will impact the community in such a positive way and we can't wait for the future for this amazing brand," said Chris Hughes, director of UK distribution at regional distributor Important Snacks.