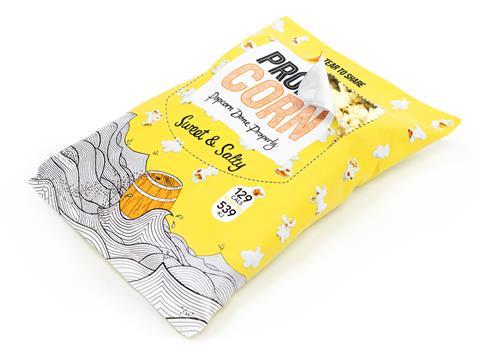 Fast growing bagged popcorn brand Propercorn has secured its second major listing in as many months, marking a "massive new chapter" for the four-year-old company as it focuses on sharing packs.

Three of Propercorn's flavours - sweet & salty, sweet coconut & vanilla and smooth peanut & almond - are being rolled out to 380 Sainsbury's stores this week in a sharing bag format.

The new listing follows the launch of Propercorn's sharing bags into 335 Morrisons' in March and formed part of a "major focus" for the brand this year on growing its sharing portfolio, said co-founder Ryan Kohn, adding it marked a "massive new chapter and period of growth".

"We have seen incredible uptake of our single-serve bags over the past four years and are hugely excited to replicate this success with our sharing bag," he said.

"We are now eyeing up the sharing category, where we hope to see similar results."

Propercorn, which was awarded Branded Winner, Snacks, in The Grocer's Supplier of the Year survey (30 April, p37), last week revealed a new 'tear to share' format for its sweet & salty and lightly sea salted flavours, which features a tear panel on the front of the pack that can be removed to create a bowl for sharing.

Propercorn accounted for almost half of the total value sales increase in ready-to-eat popcorn singles in 2015, growing the format by £2m [IRI 52 w/e February 2016].

Its success had helped attract new consumers to the bagged snacks category, the brand claimed.