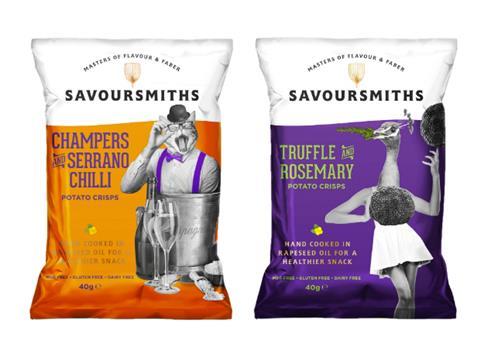 Cambridgeshire potato supplier Russell Smith Farms has entered the bagged snacks category with the launch of Savoursmiths, a luxury crisps brand.
Made from the business's potatoes and cooked in its own rapeseed oil, the first Savoursmiths comprises four skin-on variants featuring 'decadent ingredients from across the globe': Champers & Serrano Chilli; Truffle & Rosemary; Parmesan & Port; and Wagyu Beef with Honey & Mustard (rsp: £1.50/40g).
Set to make its debut in Fortnum & Mason, the NPD hopes to tap demand for crisps made with healthier cooking oils, promising 35% less saturated fat than 'regular' cooking oil.
Savoursmiths is the creation of Mike Russell Smith and his fiancée, model Colette Cronje, and aims to reflect his farming heritage combined with her international career by producing 'a better class of crisp' through sustainable agriculture.
"We are bringing something original, fun and exciting to the UK snack market," they said. "Savoursmiths meets consumer demand by introducing an innovative and epicurean offering that is produced with the very finest ingredients."
The Russell Smith family, which has been farming potatoes since 1938, is a Waitrose supplier and demonstration farm for the retailer.