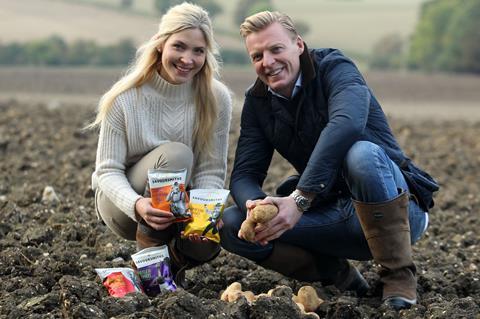 Posh crisps maker Savoursmiths plans to open its own production facility this spring, in spite of the coronavirus pandemic.
The startup is eyeing launch by around late April for the 10,000 sq ft factory – about three months later than originally scheduled. "There's a little bit of delay," said co-founder Colette Russell Smith.
Housing £1m of equipment, the premises on Savoursmiths' Cambridgeshire potato farm will allow for the production of between eight and 15 million bags of crisps per year. The brand currently makes about one million packs annually via a local third-party manufacturer.
The new site is set to open after Savoursmiths secured a Rural Payments Agency grant for the development of agri-food.
The brand, which launched in September 2016, was "growing slowly but steadily" Russell Smith added. "When you're growing, it's important to have control over what you're doing."
The Covid-19 outbreak had "thrown us a bit". But she hoped that "with having our own manufacturing and continuing strong, we'll get out of this in a better position".
It comes as Savoursmiths has rolled into Cook stores for the first time, and is expecting to land in another well-known grocery chain. It is also listed by Waitrose, Ocado and foodservice businesses, as well as retailers in about 20 countries including the US, Canada, Singapore and Australia. "A lot have shut down, but we're still seeing demand," Russell Smith said.
In February, the brand added its first larger packs, putting Desert Salt & Vinegar and Somerset Cheddar & Shallot – its most recently launched variants – into a 150g format.