Meat and wheat have been two of the ingredients worst hit by inflation this year, so it is no surprise that the 2.8% growth in value sales of savoury pastries is down largely to price hikes. The upshot is that despite predictions that pies - among the most British of foods - would do well from the Jubilympics and wet summer, volume sales of pastries have fallen by 4.8%, a far sharper decline than last year's 1.5%.

Mature brands have been worst hit, but there has been one runaway success: Pukka Pies, which reversed last year's decline to grow sales by 13%. "Pukka has grown, supported by strong KPIs, as more people buy into the brand and also purchase more frequently," says Nielsen senior client manager, Helen Hughes. "Both distribution and rate of sale have increased."

Co-MD Tim Storer claims the company has done well because it has more efficient manufacturing and buying processes that focus on fewer varieties than some of its rivals. "That means we are consistently superior by quality, but also outstanding value for money. That's fundamental in this market," he says.

Peter's, by contrast, has fallen into decline this year, joining Pork Farms and Ginsters. The latter is hoping for a boost from last month's relaunch of its individual pies. The refreshed line-up weighs more, has packaging modelled on a pub chalkboard, flags its British ingredients - and has a 20p higher rsp. "We intend to grow total sales of hot pies by using this range to attract new users to the market and by increasing average spend," says marketing manager Andy Valentine.

Elsewhere on the NPD front, a September entry into the breakfast market with a microwavable sausage bap and breakfast muffin is boosting Wall's value sales - although volumes remain in decline. "The range enables those who have not traditionally had time to enjoy a Wall's cooked breakfast to do so in a quick and easy way," says Emma Calder, senior brand manager at Wall's Pastry.

Further down the rankings, Holland's has reversed last year's decline to post impressive value and volume increases after the first chicken fillings were added to its portfolio. Helped by its growth in lunchtime slices and quiches, Higgidy has continued to perform strongly, as has Weight Watchers, which grew sales by half this year.

Pieminister, which sits in 13th position, is also inching up the rankings. In 2012, new flavours including September's Deerstalker venison pie have helped it grow sales by more than a quarter. "It is Pieminister's unconventional marketing initiatives, 'edgy' brand image and standout flavours, which bring incremental business into supermarket pie aisles," says co-founder Tristan Hogg.

Reaching out to younger consumers is a strategy that goes down well with the multiples. "The category is very mature and attracts mainly traditional shoppers," says Sainsbury's chilled pies buyer Laura Henderson. "Giving younger, more affluent customers a reason to shop the category will offer significant opportunity for growth."

In microwavable snacks, second-placed Feasters, bought from ABP by Kepak in February, declined by two fifths in value and volume. Kepak opted to keep the brand on an EDLP pricing model to suit Asda, while stablemate Rustlers was priced on a high-low promotional cycle in other multiples and has recorded strong sales, thanks largely to a wider consumer base and increased distribution. "It's still a 'young hungry man' brand, but it's gradually evolved from being eaten by 16 to 24-year-olds to 16 to 34-year-olds," says Kepak marketing manager John Armstrong.

Growing demand for on-the-go options continues to drive sales in microwavable snacks. Zugo's, for one, is growing strongly, with owner Kepak reporting its sales were largely incremental. Zugo's competitors are "chilled soups, chilled pre-pack sandwiches and things like Innocent veg pots," says Armstrong, adding that 70% of Zugo's consumers do not also eat Rustlers.

Peperami, which posted strong growth last year, remains at the top of the meat snacks table - but its slight dip in value conceals a 10.6% drop in volume. In part, it has suffered from the recent proliferation of snacking beef products such as jerky and biltong both The Jerky Group and Jack Link's grew strongly, albeit from a smaller base. "People are snacking a lot more than they used to and looking for alternatives to crisps and chocolate," says The Jerky Group owner James Newitt.

It is not all bad news for Peperami, though. Value sales of its core products actually grew (by 3.9% to £34.1m), as did those of its Firestick variant. Minis, down 13.6% in value and 28% in volume, have been the main cause of its decline.

Unilever is not about to give up on the format, however, and remains confident it will benefit from an increase in packed lunches. "Handheld meat snacks are now eaten at 14% of lunchbox occasions for adults, presenting retailers with an opportunity to take advantage of this trend," says Unilever marketing manager for snacking Alec Mellor.

Mattessons has also suffered a reversal of fortune, as last year's 23.7% value growth crumbled into value and volume decline. The slump has largely been due to its Twisted Tails pork snack, which fell 53.2% to £0.9m. Sales of its chicken Fridge Raiders brand have grown by 9.5% to £34.2m and marketing manager Chris Owen claims growth has accelerated since it launched its Hank Marvin campaign, pitching the brand as an after-school top-up for starving teenagers. The brand's 130g sharing pack, launched in October, has won listings in Asda, Morrisons and Tesco, he adds.
TOP LAUNCH 2012
Naanster Global Fine Foods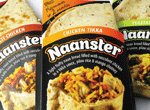 Stuffed naan bread Naanster is spicing up the microwavable snack fixture. The handheld soft bread snack filled with curry and rice has better healthy-eating credentials than a pasty, with under 400 calories, 5% fat and a credible veggie variant. Launched in March, it won listings in Tesco, Palmer & Harvey and Nisa. "I want to carve out a niche market for Indian handheld naan bread-based snacks in the way Innocent did with smoothies," says Global Fine Foods sales director Naynesh Karia.