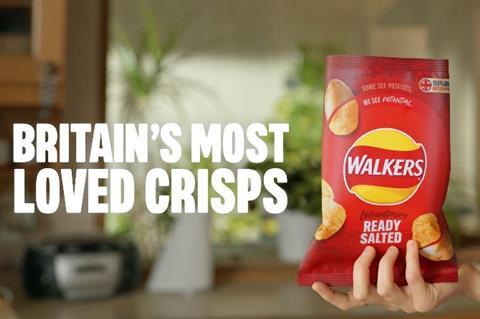 Walkers has launched a multimillion-pound campaign as recovery to its service continues – ending the so-called national crisps shortage.
Called 'Britain's Most Loved Crisps', the TV and digital push would seek to "strengthen the nation's love for the brand, whilst reminding crisp fans everywhere that simply no other brand compares" it said.
The ad demonstrated how different people enjoyed the range in "unique" ways, "with some licking before crunching, while others choose to mix in a special sauce or add crisps into a sandwich".
"We realise how much the nation has missed their favourite crisps, and the launch of our new advert recognises this by celebrating the enjoyment that the Walkers portfolio provides," said senior marketing director Fernando Kahane.
It comes after an IT system upgrade at owner PepsiCo last year made headlines by causing weeks of disrupted supply of Walkers products. At the height of the crisis, grocery sales of Walkers crisps were down 38% to £7.5m in the week ending 6 November 2021 versus £12m in the same period in 2020 [NielsenIQ].
Industry sources predicted in December that supply of Walkers crisps would likely not return to normal levels until well into this month.
However, a spokesman for PepsiCo this week told The Grocer it was "now well into our recovery, producing and serving all of our top-selling lines".
The fmcg giant was tight-lipped about the financial costs of the disruption, but the spokesman added it would "remain in close contact with our retailer partners to keep them updated with progress".
Amid the disruption, other crisps suppliers cashed in. KP Snacks saw "accelerated demand levels across our portfolio" said group sales director Andy Riddle.
Lines from Northern Irish Tayto, meanwhile, were added to Tesco's meal deal.