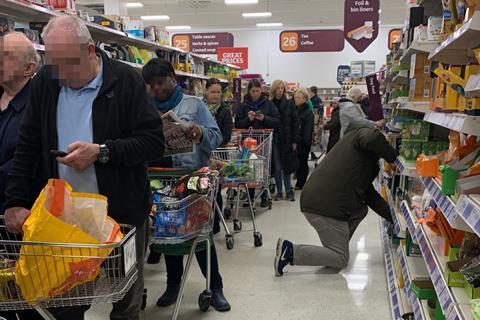 The title alone seemed to invite a fresh wave of panic buying. Yes, we're talking Channel 4's Coronavirus: Can Our Supermarkets Cope? (March 22, 7pm). As grocery shelves were stripped bare, the programme received outpourings of scorn on social media for spreading yet more fear.

The criticism was justified on one level. "How much worse is it going to get?" asked journalist Harry Wallop, over a montage of people stripping aisles bare and queues round the block. Helpful.

But that was balanced by a healthy dose of calm from many of the contributors. See Wallop's unsuccessful attempt to squeeze a scary quote from an egg producer who was dealing with a near doubling in demand from Tesco. Her answer? She had other farms on contract that could make up the shortfall, and there was much less demand from wholesale anyway.

It was a similar situation at a Bestway warehouse, when the presenter pointed out the lack of pasta sauces on shelves.

"This is a pinch point right now … we have some stock up there," the manager replied. "We're getting a delivery in."

A Skype call with former Sainsbury's CEO Justin King further dampened Wallop's frenzy-whipping efforts. The supermarkets were struggling to replenish shelves right now but "they'll catch up quite quickly" King said.

Tough times, certainly, but not the disaster Wallop seemed to be seeking. "There's enough to meet demand, but only if we keep calm," he concluded, completely devoid of self-awareness.