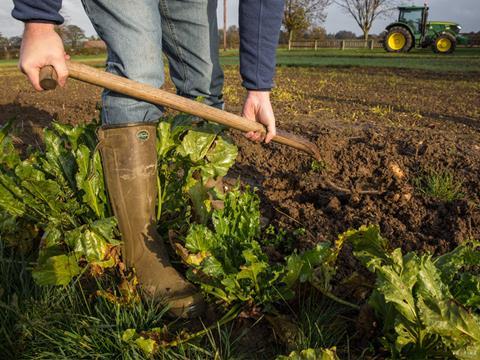 Veggies are enjoying a bit of a comeback. The popularity of vegan bloggers like Ella Woodward, plus dire warnings on methane and the eco-impact of meat, has seen veg given more prominence. It's a good time, then, to mark National Vegetarian Week on Countryfile (BBC2, 22 May, 7pm).

At first glance, life for the UK's growers looks suitably idyllic. In the Channel Islands they're eagerly awaiting the annual potato harvest, digging up spuds in the sun and sharing the secrets of growing the famous Jersey Royals.

Back on the mainland, business is booming for an Indian vegetarian restaurant in the heart of Yorkshire, where hardy meat-eaters are converted by spiced rhubarb patties on sizzling onions.

And there's plenty of innovation, too. Farmers are nurturing micro herbs in purple-lit tunnels, and artists are winning over kids to the cause with landscape photos built entirely from fruit & veg.

But life isn't all roses for those that rely on veg for their livelihood. The introduction of the national living wage has left many growers fearing for their future, the show reported, with 35%-60% of turnover routinely swallowed up by wage bills in agriculture.

"It could be curtains," warned Essex grower Peter Thompson, who reckons he'll be out of business in four years if sharp annual pay rises of 7% take effect. Stretched retailers will struggle to help absorb the cost, warned the BRC's Andrew Opie. A sour note that left us wondering whether the future for UK fruit & veg may not be so bright after all.