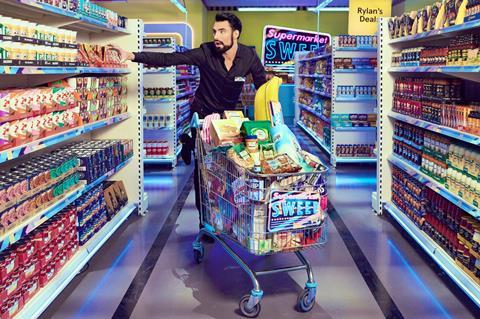 It's been more than 10 years since Supermarket Sweep has been on our screens, and even longer since its 1990s heyday. Since then, anyone wanting to go 'wild in the aisles' has had to wait for Black Friday to start a brawl.

The show's return (ITV2, 9 September, 8pm) saw new store manager Rylan Clark-Neal replace the late Dale Winton as host. Like Winton, Clark-Neal showed a gentle, easy rapport with the contestants, who as before battled to win time in which to fill their trolleys and qualify for the final undignified dash.

The show's inflatable bonuses and inane questions remain, but Clark-Neal now gets to have fun with new security guard Gary, while a few celebs popped in, including Love Island's Maura Higgins.

As for the changing face of grocery, online shopping wasn't mentioned, though reportedly a click & collect-based round is imminent. Contestants were given bags for life, however, and when one frenzied shopper lobbed grapes all over the floor Clark-Neal had to avert a mini Twitter-storm with a reminder that the show donates to food banks.
Just a reminder food gets donated to food banks every few days! X #SupermarketSweep ❤️ (not them grapes obviously)

— Rylan Clark-Neal (@Rylan) September 9, 2019
The industry seems into it, anyway – Tesco is on board as a sponsor, while the likes of Birds Eye, Alpen and Twinings were among those making the most of the product placement opportunity.

In the end, pink-jumpered duo Kyle and Brendan bagged the £3k prize (a below-inflation rise on the £2k offered in 1993). A bit more anarchy in the aisles might suit Supermarket Sweep's evening slot better, but it remains frothy, reassuringly low-stakes fun.