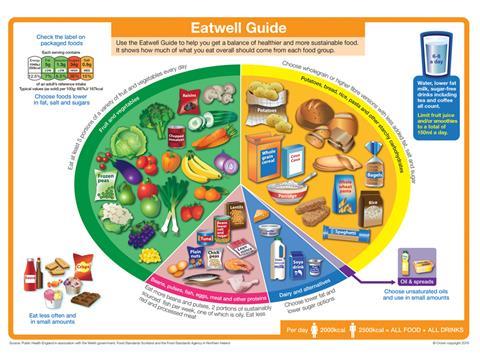 Government healthy eating guidelines are a hot topic following the launch of chapter two of the Childhood Obesity Plan, and other recommendations for a balanced diet are now starting to come under scrutiny, namely the Eatwell Guide. In The Food Programme (BBC Radio 4, 4 July, 3.30pm), Sheila Dillon sought views from healthcare professionals who are issued the dietary guidelines and those who have been following them. It didn't make for easy listening for the government.

The overriding opinion was that the guidelines do not represent a balanced diet. The Eatwell Guide, put together by Public Health England, contains too many refined carbohydrates and sugars, said Dr David Unwin, who kicked the guidelines to the kerb and has since won an award for his work reversing type 2 diabetes among his patients. All by eating full-fat foods and cutting out pasta, bread and wholegrain - and the Eatwell Guide.

But what does PHE think? Head of nutrition science Professor Louis Levy said he was sticking to the evidence, which forms the guide and stresses we need carbs, despite "a lot of noise from people who are proponents of a low-carbohydrate diet". When asked about conflicts of interest for those setting these guidelines because of their financial ties to the food industry, Levy assured Dillon there was a "robust public appointment process" in place.

That's unlikely to convince critics of the Eatwell Guide, but judging from Levy's response it's unlikely to be revised any time soon.