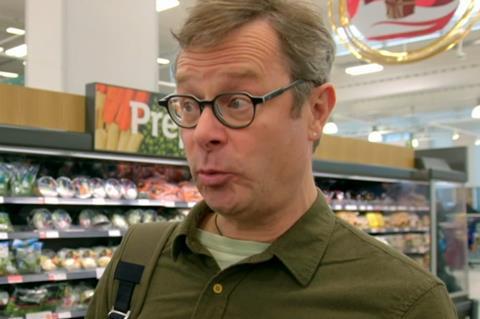 On-the-go sandwiches: remember them? Despite sales falling sharply during Covid, their packaging was the rather incongruous focus of Hugh Fearnley-Whittingstall's campaigning in War on Plastic: The Fight Goes On (BBC One, 1 September, 9pm). He lambasted the 'widely recycled' badge on supermarket butties – which, he insisted, was "misleading" and "total greenwashing". And he had a point.
But who was it for? Certainly not people in the grocery industry, who are well aware of the many concerns raised about single-use plastic. Much of the programme's content – such as micro-plastic in (some) teabags and OPRL's new binary labelling for recycling – was old news to anyone in the know.
Not that it didn't bear repeating for the general public. However, the crucial messaging was often lost over a flabby hour, which also took in the likes of plastic toys from fast food restaurants (with an amusing moment of Burger King getting one over on McDonald's), plastic packaging in the time of Covid, and disposable face masks. Those last two topics felt like an afterthought, but could have easily filled a tight 30 minutes.
As could the show's other strand that saw a family, the Olivers, cutting their single-use plastic use on a budget, with the help of co-presenter Anita Rani and sustainability consultant Livvy Drake.
It was, arguably, the most enlightening part of the show. But also its most divisive. A lot of people will surely be put off by the prospect of homemade oat milk. And is DIY toothpaste any good for your chompers?