This article is part of our 2016 Dairy digital feature.
Standard yoghurt is a tough, crowded market right now; Brits got through nearly 16 million fewer litres (1.7%) of the stuff in 2015 [Kantar Worldpanel 52 w/e 4 January 2016]. But there's a gang of innovative young brands enjoying growing sales as they put some fire back into the category with unusual and exotic flavours and formats. So saddle up as we introduce the young guns of yoghurts…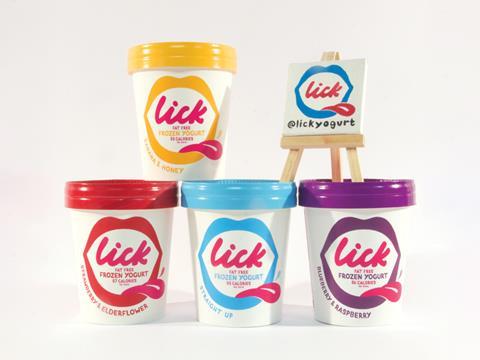 Lick
Not your average yoghurt brand, when the Lick crew aren't freezing yoghurt they're running their own stop-frame animation studio and record label, among other ventures. 'Straight outta Brighton' duo Ky and Owain caused a stir by the seaside, opening the UK's first-ever froyo shop in their home city in 2008. Since then, they've gone into supermarkets and cinemas nationwide.
"Freezing yogurt turns the ingredient into a completely different and exciting food. It has the indulgence of ice cream but with the health benefits of yogurt," says Thomas Lavis, Lick's head of creative. "We've managed to create something that stands out, reflects what the Lick brand is about, and communicates our USPs effectively. It's important to have something over your competitors too. We do – Lick is the only froyo in the world made from 100% yoghurt. There's a very DIY feel at Lick. People have a lot more respect for what you do if they know you've put your heart and soul into it."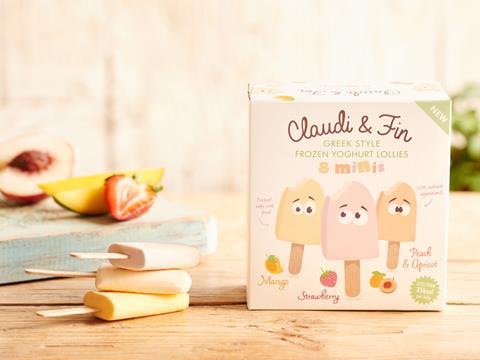 Claudi & Fin
Welcome to Lollyland! Launched in 2014, Claudi & Fin set out to take frozen yoghurt one step further by combining it with whole milk, fruit and vitamin D to make lollies with fewer calories than an apple, making them a hit with families and weight watchers alike. Featuring kid-friendly characters Claudi & Fin, these cheeky pops have built a loyal following on social media with a digital campaign brewing for summer.
"The key to standing out on the shelf and gaining listings is daring to be different," says Meriel Kehoe, co-founder. "It's our healthier credentials, as well as our standout packaging, that has helped us win subsequent listings with Tesco, Waitrose, Ocado and Budgens. Without a massive marketing budget your packaging becomes your biggest marketing vehicle."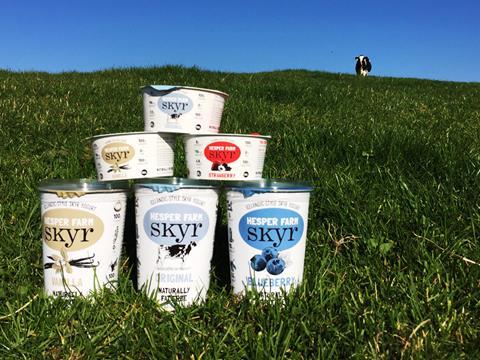 Hesper Farm Skyr
Hesper Farm Skyr's founder Samuel Moorhouse doesn't follow the herd. In fact, he set out to do something different and, it's fair to say, he's succeeded, claiming to be the UK's only farm to produce Icelandic-style Skyr.
"There are already so many brands and varieties on shelves so there's some tough competition and limited development opportunities," says Moorhouse. "To make an impact we wanted to make something that no one else in Britain was making."
Skyr changes perceptions of healthy yoghurts – it has 0% fat, is low in sugar and high in protein and calcium while being "luxurious and creamy" he says. As well as a top-notch product, a personal touch is also needed. Visitors to Hesper Farm's website not only become well acquainted with Moorhouse but Baby the cow, the star of the show (and yoghurt pot).

Drinkable formats have been hardest hit as Britain's relationship with yoghurt has soured. What's needed is an exotic new brand that proves there's more to yoghurt drinks – and yoghurt as a whole – than probiotic shots and lacklustre pots. Enter, Nomadic. The brand seeks to change Brits' perceptions by introducing them to a more exotic way of life with lassis (a smooth Asian-inspired yoghurt drink mixed with exotic fruit), ayran (natural yoghurt blended with a pinch of sea salt) and Lebanese dipping yoghurt, amongst others.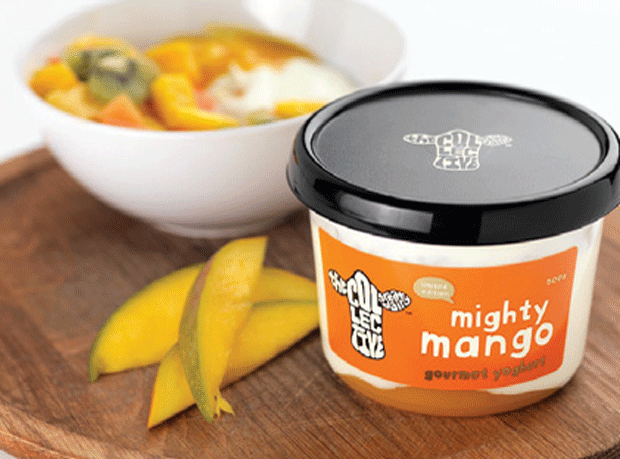 The Collective
This multimillion brand's motto is 'great dairy - no bull'. This no-nonsense attitude is certainly causing a stir in the mults coupled as it is with punchy packaging, bold flavours and premium price points. It pushed this even further in February this year with the launch of its Luxury Gourmet Range featuring Russian Fudge, Coffee and Choccy Orange flavours. The Collective is no stranger to the world of social media either, with nearly 5,500 Twitter followers and 24,000 likes on Facebook. The cheeky and informal tone makes it a hit with users, with one even going so far as to pen a poem about the brand proclaiming it to be her 'daily saviour'. Amen.
Next article - Video: How to make cave-aged Cheddar… in just a minute
Previous article - Global NPD: Can a dairy drink really make you beautiful?