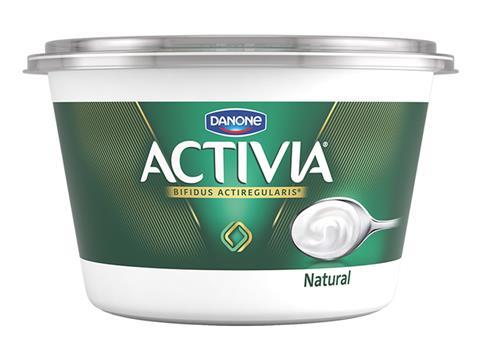 Danone's much-vaunted relaunch of its Activia brand last September has so far failed to turn its fortunes around, the dairy giant has admitted.
The brand, which lost 11% of its value in the UK last year, representing almost £20m lost in sales [The Grocer Top Products/Nielsen], was subject to a big-budget revamp in the autumn in a bid to reposition Activia as a more premium "aspirational lifestyle brand".
However, the brand's sales results were "below expectations", according to Danone's full-year results for 2016, published this week.
Year-on-year sales in its European business fell by 1.4% to €8.6bn (£7.3bn), Danone said, with sales directly affected by Activia's performance and aggravated market conditions in Spain during the fourth quarter of 2016. "The relaunch has not delivered the brand's turnaround," it added.
Danone recruited ambassadors including singer Katherine Jenkins and Olympic gold medal-winning cyclist Victoria Pendleton to promote Activia's relaunch and front its new 'Live InSync' marketing campaign, but "given the ambition of the transformation, this turnaround will take time", the processor warned. "Local execution plans are being reworked and teams have already started to implement them country by country."
Global consolidated sales for Danone stood at €21.9bn last year, up 2.9% on a like-for-like basis but down 2.1% when taking negative exchange rate fluctuations of –5.5% into consideration.
The group warned it anticipated a steep rise in milk prices this year as a result of a decline in production, with a "low to mid single-digit increase in Europe and the US", and even higher in emerging markets.
It has also launched a global efficiency programme dubbed 'Protein' which is designed to deliver €1bn in cost savings by 2020.
"I have decided to address our efficiency agenda in a radically new way, and to launch a comprehensive, company-wide programme allowing us to spend better and more sustainably and to work more efficiently," said CEO Emmanuel Faber.
Danone's 2017 outlook "assumes that economic conditions will remain particularly volatile and uncertain overall, with persistently fragile or even deflationary consumer trends in Europe, and specific contextual difficulties in a few major markets, including the CIS, China and Brazil", he said.