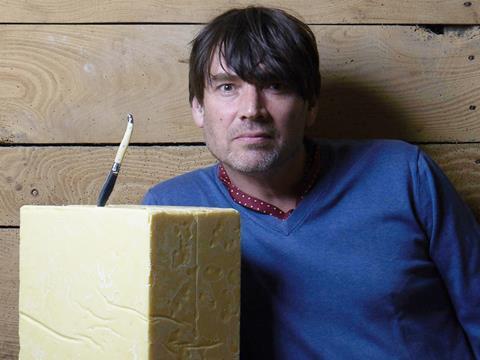 Blur bassist and award-winning cheesemaker Alex James has rebranded and extended his cheese range and picked up a national listing with Ocado.

The Alex James Great British Cheeseboard, launched this week, comprises six premium "complementary" British cheeses numbered 1 to 6, making up what James claimed was the "UK's first branded British cheeseboard".

The brand includes two new cheeses: A No 1 cheddar made with Alpine starter cultures was described by James as a "monster" which "packs a punch". The second, the range's No 3 Somerset brie Glastonbury, was exclusive to Ocado and made with Guernsey milk and hand-decorated with fresh oregano.

No 2 Blue Monday was a soft and creamy blue cheese; No 4 Farleigh Wallop was a "delicate" goats' milk brie; No 5 Goddess was a soft, washed rind cheese made with Guernsey milk and washed with Temperley Somerset Cider Brandy; while the No 6 Little Wallop was a "silky" goat's cheese washed in Julian Temperley Somerset Cider Brandy and wrapped in a vine leaf.

Prices in Ocado start from £2.99 for the cheddar, £4.49 for Blue Monday, £4.99 for Glastonbury and up to £5.99 for Farleigh Wallop, Goddess and Little Wallop.

The cheeses have been developed in conjunction with suppliers Whitelake, Shepherds Purse and Barbers.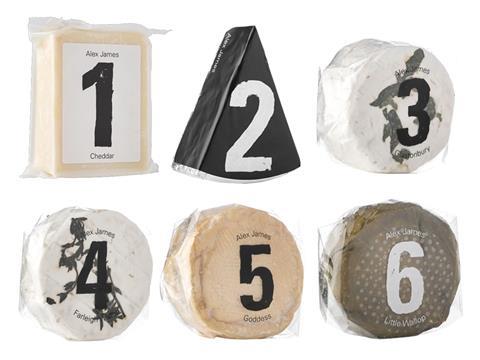 James, who last toured with Blur in 2015 and also runs the annual Big Feastival music and food festival at his Cotswold farm, said the Cheeseboard lineup represented the culmination of 15 years of hard work. "I've always wanted to do a whole cheese board, but it takes time, and it needs a cheddar," he told The Grocer.
"Cheddar is tricky as it's a very price sensitive category and we're very good at making it [as a nation] so it is not for the faint-hearted," he added. "But I'm ready now and we have something that is affordable, delicious and - with these Alpine starter cultures - a bit different as well."

He added: "British cheese is the best in the world - it's not just about cheddar and stilton any more. I've worked with the country's best cheesemakers and monastic devotion over the past decade to bring this Great British Cheeseboard together. I'm delighted with the sheer deliciousness of the results and can't wait for everyone to get stuck in.

"Being able to order cheese delivered to your door from Ocado is a wonderful thing. A decade ago fine cheese deliveries were the preserve of chefs and the extremely wealthy."

The range will also be available in independent retailers, James added, reflecting his musical status as an "indie kid at heart".

The new range brought a "great new element to the cheese category", said Ocado senior buying manager of fresh Robyn Figueira.

"From the innovative flavours all the way to the eye-catching packaging, there is something for everyone," Figueira added. "We are really proud to have partnered with Alex and hope our customers enjoy discovering the brand new range."