As The Grocer this week publishes its eagerly awaited The Dairymen supplement, we at Alpro take great pride in now considering ourselves firmly established as part of a wider 'dairy' and 'dairy alternatives' fixture, in which plant-based food and drink accounts for more than £260m of 'dairy' sales, growing 14% in value.

The fact that leading multiple retailers are now siting our wide range of products next to longer-established dairy products is a clear testament to how far we have come.

As such, we think it's worth pausing briefly to think about the shopper journey that has brought us here. When we launched our first range of soya drinks in the mid-1980s, we were initially very much meeting a needs-based demand for plant-based products aimed at households needing to cater for family members with particular dietary intolerances or requirements.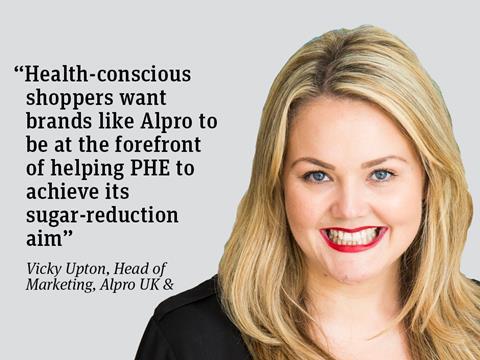 Fast forward just 30 years and plant-based products are now bought by one in three households, whereas our latest research suggests that one in seven households actually need to buy our products.

So the clear step change has been choice, with millions of shoppers making a conscious decision to choose plant-based products and - in particular - ours, with Alpro accounting for two-thirds of total plant-based sales.

They've been choosing our products for a growing number of reasons, too, including everything from the incredible taste of our market-leading NPD, to our strong environmental credentials and our impressive record on responsible sourcing.]

Now we're giving shoppers another reason to buy Alpro, with the launch of a no sugars big pot soya alternative to yoghurt - the wider yoghurt category's first 100% 'no sugars' variant in multiple grocery, plant-based or otherwise. The launch of Alpro Plain Unsweetened no sugars big pot shows how far plant-based can push the boundaries of innovation, at the same time as retaining our hallmark attributes of being rich in protein and low in fat.

So why are we launching this now, particularly as our range is already low in sugar compared with most dairy-based options?

Like all responsible food and drink suppliers, we have set ourselves exacting targets to reduce sugar across our range, and we are targeting a further 12.5% reduction by 2018, despite having already achieved a similar reduction across our lineup over the last decade.

Similarly, we are fully supportive of Public Health England's programme to remove 200,000 tonnes of sugar from the UK market per year by 2020, and we have both received and understood the clear message that health-conscious shoppers want category leading brands like Alpro to be at the forefront of helping PHE to achieve its aim.

One of our key missions is to change the way the world eats for the better by creating delicious, naturally healthy plant-based foods, and for the maximum wellbeing of everyone.

So making our 'no sugars' announcement feels particularly significant. For while it comes as sales of our plant-based alternatives to yoghurt range are already soaring, we also know it's the right thing to do.

Vicky Upton, head of marketing, Alpro UK & Ireland