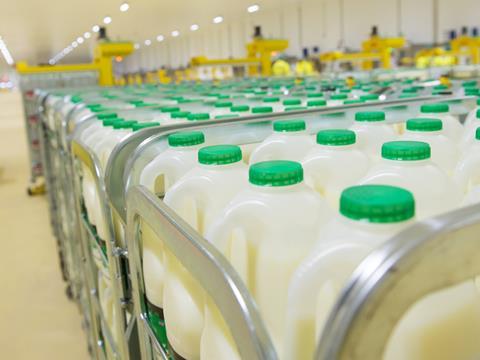 Arla cut its core own-label milk range on Monday 16 March from 13 SKUs down to six

Branded lines being temporarily delisted include Big Milk and whole milk Cravendale

The supplier is also contributing to the government's 'shield' food parcels for vulnerable members of the public
Arla has axed more than a quarter of its branded and own-label SKUs from supermarket shelves over the past three weeks as it battles to maintain supplies through the coronavirus crisis.
With supermarkets facing unprecedented demand from panic-buying shoppers, the dairy co-op's UK MD Ash Amirahmadi said the supplier had moved quickly to simplify its offering.
After devising a plan for its staff at the start of March – including the identification of factory staff as key workers and ordering non-essential staff to work from home – the dairy giant then moved into what Amirahmadi described as a mobilisation phase, designed to ensure supermarkets did not run out of milk.
"Probably the smartest move we did was to go to our customers three weeks ago to outline a 'level one' plan that would create 10% more capacity and a 'level two' plan to create another 15%," he told The Grocer.
And after a busy weekend of panic buying, Arla cut its core own-label milk range on Monday 16 March from 13 SKUs down to six.
This led to the delisting of one-pint milk lines, 1% fat and skimmed, leaving the supplier offering just its core two, four and six whole and semi-skimmed SKUs to retail customers.
Those retail partners had initially questioned the urgency of the SKU cull, Amirahmadi said. "Many had asked if we were too early, but by the Monday, they were thanking us."
Branded milks cut
The supplier then moved to 'level two' on 23 March, he added, cutting segregated regional milks "because at the end of the day, people just want milk". It also temporarily delisted its Big Milk brand, its whole milk Cravendale lines and other branded SKUs, helping increase capacity for core dairy products by at least 25%.
Evidence of panic buying had reduced since the government imposed its de facto lockdown last Monday, with milk sales last week "calming down a lot".
As of this week, Amirahmadi expected some SKUs to be reinstated, but "we won't go back to where we were before", he warned, at least for the time being.
"We're going to start to put complexity back in, and we're in discussions with the retailers about how much," he added. However, "everyone was currently feeling good about a more simplified offering", he pointed out, referring to a widespread drive by the mults to pare down their ranges.
As a result of the coronavirus crisis, Arla had now devised three new metrics for measuring the performance of the business in addition to standard profit, loss and turnover metrics.
Amirahmadi said absenteeism, manufacturing output and cost management were now key ways of measuring performance, while noting costs had risen significantly over the past few weeks on a number of levels, including those linked to SKU simplification – particularly as the supplier's lineup carried less added value products.
"Our biggest issue has to be labour. We are diverting staff where we can and also actively recruiting from external sources. Absenteeism is about 5% now, but we expect it to rise up to between 20% and 25% in the coming weeks," he added.
The supplier was also a contributor to the government's so-called 'shield' food parcels for vulnerable members of the public, Amirahmadi said. The dairy co-op is expecting to provide as much as 900,000 litres/cartons of long life milk a week.