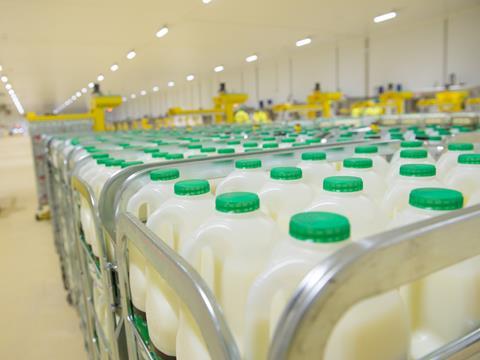 Rocketing in-home dairy consumption during the pandemic helped boost UK sales for Arla in the first half of 2020. However, it warned more cost-cutting could soon be required as the UK entered a recession.
Year-on-year net revenues grew by 4.7% to £1bn (€1.2bn) – driven by the strong performance of the dairy co-op's branded portfolio and a shift in demand from foodservice into retail, according to the results, published today.
But the supplier cautioned the performance "masked a complex story of changed profitability, operating costs and temporary demand, which may not be sustained across the rest of the year".
Arla's overall strategic branded revenue grew by 16%, with big increases in sales for Cravendale (up 22%), Lurpak (up 20%) and Anchor (up 17%).
The lunch occasion was a key contributor in the performance of these brands, suggested Arla UK MD Ash Amirahmadi. He cited recent Kantar data showing an extra 230 million dairy usage occasions at home per week during the first six weeks of lockdown. Of that figure, some 70% came from the lunch occasion.
"As we have the two biggest butter brands and are also strong in [own label] cheese, we benefited from that consumer change," he told The Grocer.
Cravendale sales also benefited from a greater consumer confidence in filtered and long-life dairy products. "Milk sales had a peak at the beginning of lockdown and then stabilised, but Cravendale continued to grow," he said.
"Shoppers told us they had increased confidence in the longer life and filtered nature of the brand," while filtration also tapped into consumer demand for purer products and immunity-boosting foods.
But in a word of caution, he warned that while foodservice – a channel that represented 10% of its UK revenues – had reopened, sales had only returned to about 70% of previous levels, despite Arla's strong presence in QSR operators such as McDonald's and Starbucks.
And though own label milk had performed strongly initially, returns from the sector "remained a problem", he warned.
"We're not out of Covid yet and we're now entering a significant recession, so the market environment for improving profitability isn't there. That means we may have to look again at reducing costs in a critical way – clearly we have learnt a lot about simplification and improving availability of key lines during the pandemic."
There had been "a dramatic shift in our business for most of the half-year, but our colleagues have adapted extremely well to working through difficult conditions and I am very grateful for their support and efforts to help feed the nation", he added.
At global group level, Arla Foods amba grew its first-half revenues by 2.8% to €5.4bn, compared with €5.2m in the first half of 2019. Profitability also rose, with a net profit share of 3% of revenue, up from 2.3% in the first half of 2019.
Branded sales volumes grew an "unprecedented" 10.4%, while its global milk price for the first half of the year remained stable at a competitive level, with per kg prices at 37.0 euro cents compared with 36.1 euro cents in the first half-year of 2019.
Arla CEO Peder Tuborgh described the period as "truly abnormal times", but said he had been "very proud of our people and our results".
The dairy giant still expected to meet its expectations for the full year, with a revenue outlook for 2020 at €10.4bn-€10.8bn and a net profit of between 2.8%-3.2% of revenue. Its efficiencies programme Calcium also delivered savings above expectations at €69m, despite the pandemic.
However, it warned uncertainty around the duration and intensity of market impacts caused by the pandemic was expected to continue throughout the second half of 2020.