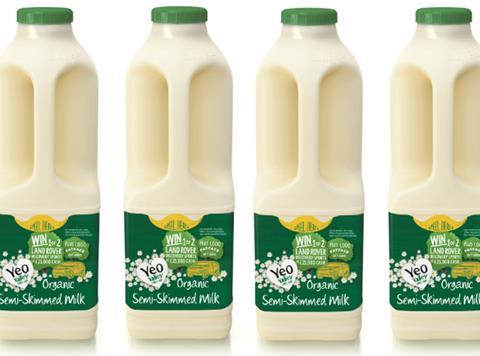 Yeo Valley will stop selling all fresh milk products as part of its proposed multimillion-pound tie-up with Arla, but the farmers supplying milk to Yeo Valley will not be affected, The Grocer can reveal.

Speaking this week as Arla announced strong UK results for 2017, with year-on-year revenues climbing 8% to £1.94bn, Arla UK MD Tomas Pietrangeli said the dairy giant was planning a major NPD push for the Yeo Valley brand, having bought the rights to the organic brand for liquid milk, cheese and butter.

However, there were no plans to change supply arrangements for Yeo Valley products under the deal, he added.

"Supply will remain as per the current set-up."

Under the Yeo Valley deal, announced on 8 February, Arla will pay royalties to Yeo Valley annually. But the acquisition is still subject to approval by the Competition & Markets Authority, with some dairy industry insiders suggesting it could place too much control of the particularly volatile butters and fats sector in the hands of Arla and its main rival Müller.

While Yeo Valley has remained tight-lipped over the deal, Pietrangeli played down competition concerns in butters, and told The Grocer the rationale for the acquisition was clear for Arla.

"When you look at the overall fats market, volumes from this potential transaction are actually relatively small, so we don't think it will impact market pricing," he said. "We haven't hidden the fact we believe there's an overall organic opportunity for dairy in the UK," he added. "Despite the fact we are now seeing significant growth, the sector is far behind the rest of Europe, and we see a big opportunity here."

Organic dairy value sales rose by 3.1% in the UK last year, according to the Soil Association's recent Organic Market report, while the Yeo Valley milk brand saw sales rise by 2.4% to £26.7m [The Grocer Top Products 2017/Nielsen].

Despite throwing Arla's considerable promotional weight behind Arla Organic Free Range Milk during the past year, Pietrangeli said adding the Yeo Valley portfolio would lead to "practically no cannibalisation between the two brands", as they appealed to two very distinct consumer groups.

"Yeo Valley appeals to the traditional organic consumer with a heartland in the south of England, while Arla Organic is appealing across the UK to a younger set of foodie consumers who currently buy standard fresh milk but are keen on its animal welfare credentials," he added.

"Expanding the Yeo Valley range by bringing innovation and excitement to the category is certainly part of our strategy."

It comes as Arla this week reported an 8.1% rise in global group revenues during 2017, to €10.3bn, driven by higher sales prices, increased branded share of sales, and a better geographical and product mix.

However, gross profit fell 5% to €2.28bn, while profit before tax dropped 19% to €321m as production costs rose by 12%.

In the UK, it said the Skyr (sales up 45%), Arla Protein (69%) and Arla BOB (45%) brands all drove growth, while Arla's foodservice division Arla Pro enjoyed a 22% revenue increase compared with 2016.