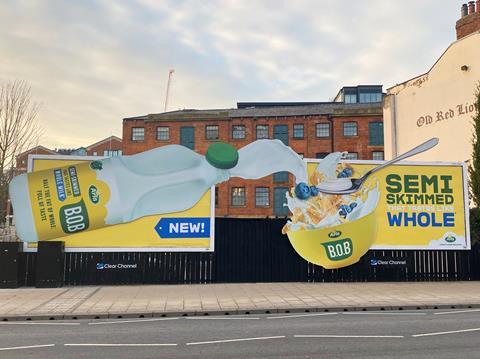 Inflationary pressures drove a rare slump in sales of Arla's key UK brands during the first half of 2023, its half-year results have revealed.
After several years of strong growth, the dairy co-op saw total strategic branded revenue fall by 5.2% year on year, while total branded volumes fell by 0.7%.
Arla put the drop down to "changing consumer patterns due to general inflation in the UK", with consumer behaviour shifting towards discount channels and own-label products.
However, it "started to see our brand performance improve towards the end of the first half due to significant investment in our brands [through initiatives such as an increase in promotional activity] and our continued innovation in the dairy aisle", said senior VP of sales at Arla Foods UK Jonathan Dixon.
Other key moves included the reduction of butter pack sizes to keep price points attractive, Dixon suggested, before adding he expected to see continued growth into 2024.
"This focus on growing our branded business in the short and long-term is already seeing positive growth for our Starbucks and Arla Protein brands. Improved performance across our brands is [now] sustaining as we have moved into the second half of the year."
Overall, the business's performance was in line with expectations, Dixon suggested, with Arla "finding the right balance in a downward market", and total six-month revenues in the UK increased by an inflation-influenced 16.9% to £1.37bn.
This performance helped it "soften" the negative impact of volatile market dynamics and deliver a performance milk price – which measures the value created per kilogram of owner milk – of 49.7 EUR-cent/kg milk, enabling a half-year supplementary payment to its farmer owners of 1 EUR-cent/kg milk.
Group profits take a hit
Sales across the UK business's global parent Arla Group fared better in the first half of 2023, with total revenues climbing by 10.7% to €7.06bn and branded revenues up 6.9% – driven by Lurpak with 7.2% growth and the Arla masterbrand with a 3.6% uplift.
But amid ongoing inflationary pressures across the business, plus commodity price volatility, the group saw pre-tax profits fall by 46% year on year, from €230m to €123m. Net profit fell by 46% to €103m, or 1.5% cent of revenue, compared to 3.0% in the same period last year.
This was "below our full-year expectations" for the overall group, Arla said, and meant it had adjusted its full-year revenue expectations down from the €13.6bn-€14.2bn bracket to between €13.2bn and €13.7bn.
As a result, Arla said it expected to deliver a full-year profit within the range of 2.8% and 3.0% of revenue, narrowed from between 2.8% to 3.2%.
"As anticipated, the market conditions put our branded products under pressure. However, we managed to protect our relative market shares against our competitors, and I am pleased we were able to secure group earnings, a competitive milk price and a half-year supplementary payment to our farmer owners of 1 EUR-cent/kg milk based on the half-year volumes as planned," said Arla Foods CEO Peder Tuborgh.
"We anticipate that inflation and its influence on consumer patterns will continue to mark the remaining part of 2023, putting pressure on branded volumes in most markets. However, we expect an increase in the underlying category growth to contribute to branded growth slowly picking up again," he added.