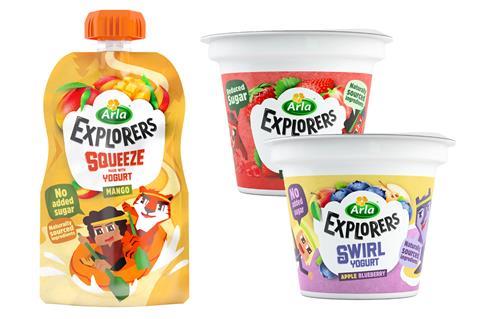 Arla is set to challenge kids' dairy brands such as Petits Filous, Yoplait and Munch Bunch after expanding its yoghurt portfolio with the launch of Arla Explorers.
Made using natural ingredients and real fruit, the new brand features three different yoghurt variants, containing at least 30% less sugar than a standard flavoured yoghurt, Arla said.
Explorers will go on sale in Tesco on 5 August, with other retailers due to launch later this year. Made by Arla in Finland, the range includes a no-added sugar Swirl pot, a reduced sugar Bubble pot and a no-added sugar Squeeze pouch.
Available in Apple & Blueberry and Mango & Raspberry flavours, Swirl is a lactose-free creamy yoghurt with two layers of fruit and no added sugar. Total sugar content ranges between 6.2g and 6.4g per 100g dependent on the flavour, and the products contain about 18% real fruit purée (rsp: £1.50/3x90g pots).
The reduced sugar Bubble variant – a creamy yoghurt with a layer of fruit bubbles that 'pop' in the mouth – is also lactose-free. It is available in strawberry and peach flavours, and contains between 7.6g and 7.7g per 100g of sugar (rsp: £1.50 for 3x90g). Meanwhile, the no added sugar Squeeze pouch, available in strawberry and mango flavours (rsp: 75p/80g pouches) has a total sugar content of 5.6g to 6.5g per 100g, dependent on the flavour.
The range will be backed by a £2m TV ad push later this year, and would take Arla's philosophy around healthy, balanced lifestyles into the kids' dairy category, said brand manager Holly Twiss.
"Sugar is a growing concern amongst parents and this is affecting the category. There is a real opportunity to step-change the kids' yoghurt market with products that hit that sweet spot between reassuring parents, and being fun and great-tasting for kids."