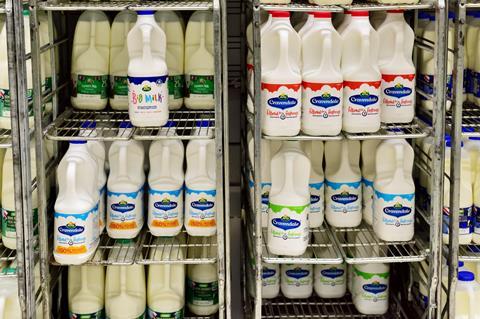 Arla is to encourage shoppers to sniff or taste their milk to check on freshness after announcing it will scrap use-by dates on its branded milks in a move to reduce waste.
Citing research last year by Wrap – which suggested up to 7% of the milk produced in the UK went to waste down sinks – Arla said it would switch from use-by to best before labelling on its branded fresh milk by the end of the year.
In addition to the change on products such as Cravendale, BOB and Goodness, the dairy co-op added it also planned to introduce best before labelling across its entire yoghurt portfolio in 2020.
Under current FSA rules, milk can carry either date label. But with milk generally sold carrying use-by labelling, the dairy sector had "created a system where we are telling consumers there is an immediate danger to their health by consuming milk after the use-by-date", said Arla director of quality, environmental health and safety Fran Ball.
"This is simply not true, and a best before label is more appropriate in that it tells people the date until which they can expect the food to maintain its best quality," she added.
"If moving to best-before encourages us all to sniff or taste test to see if the milk is still good for a few further days rather than throw it away, then it's the right thing to be doing."
The move comes as research of 2,000 UK adults by OnePoll for Arla last month revealed 77% of shoppers checked food and drink packaging before they purchased, but only 15% were confident they could decipher everything on the label.
Shoppers 'unsure' of labelling differences
The poll also found some 34% were also unsure of the difference between use-by and best before labelling, leading to the same amount of people binning food if past its best before date. Meanwhile, another 38% did the same once the product has passed its use-by date.
As a result of these findings, Arla has launched an online poll on its UK website, calling for people to vote for the label they want to see on milk bottles.
"The thought of so much good milk going to waste is difficult for our farmers to accept and a waste of the natural resources that go into the process," Ball added. "We're looking for a way to prompt people to take a step back before they dispose of their milk, to have a sniff or taste and check their milk before they throw it away."
The move was welcomed by Wrap, which began lobbying for a change in labelling guidelines for milk more than two years ago.
"Wrap's research has found that the way food and drink products are labelled can make a significant difference to waste levels at home," said the charity's head of business collaboration David Moon.
"Our industry guidance on the choice and application of date labels favours products carrying a best before label, wherever food safety is not compromised."
"These labels gave people more flexibility around food as they were a quality indicator, not a safety marker," he added.
"Moving from a use-by to a best before label needs to be done with food safety front of mind, but it is a move we welcome and which we have seen done successfully for other products," he said. "Poor understanding of the difference between labels has also been a long-standing challenge and so awareness-raising of this kind is hugely important."