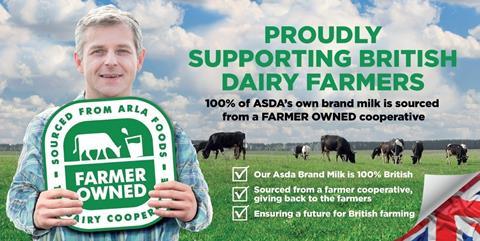 Asda is rolling out "Made with British milk" labelling on its cheese products and new in-store communication to encourage its customers to buy British dairy products.
The new labelling would support Asda's commitment to sourcing its own-label Cheddar using 100% British milk from Arla, the retailer said. It also promised "new customer communication in all Asda stores to encourage shoppers to buy British".
The labelling would be rolled out "as soon as possible", said an Asda spokeswoman.
The announcement comes after a meeting between Asda CEO and president Andy Clarke, and Arla Foods famer board director Jonathan Ovens this morning, and less than a week after Asda announced it was increasing the price it paid Arla for its milk to 28ppl as well as pledging to include Arla's Farmer's Marque labelling on all its liquid milk from the autumn.
"As Arla farmer owners, we asked our major retailer customers to support our responsible sourcing principles and our transparent cooperative model," said Ovens.
"In announcing its wholesale price increase and carrying the farmer-owned marque, Asda has demonstrated its leadership in driving a solution to some of the challenges that the dairy industry is currently facing."
Clarke said: "Asda was formed by dairy farmers, a heritage that we take seriously and that has informed our decision to make a substantial move to support farmers during the current global milk price crisis as well as agreeing a longer term package of measures going beyond liquid milk."
It comes on the back of similar moves to increase the price paid to milk suppliers by Lidl, Aldi and Morrisons over the past week, with Morrisons also pledging to launch a new premium Cheddar priced at a retail premium of 34p per pack above its standard Cheddar price to deliver the equivalent of 10ppl back to farmers who supply the milk.
It follows a wave of farmer protests over the low retail and farmgate price of milk, which culminated in farmers taking cows into an Asda store last weekend, and a spate of 'milk trolley challenges' across the country, while Farmers for Action continued protesting on Sunday evening by blockading Tesco and Farmfoods distribution centres in Avonmouth and Widnes.