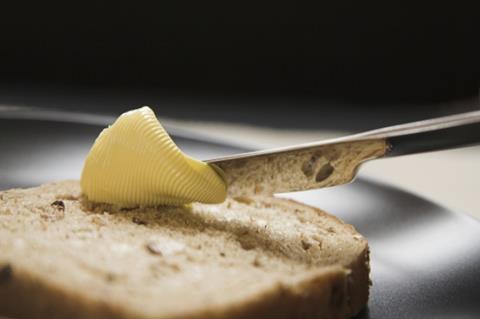 Butters and spreads have continued their strong sales performance despite easing of lockdown measures, new data has shown.
The data, which covers the latter part of the lockdown and the first week of pubs and restaurants reopening, shows volume sales in the BSM category were up 25.9% year on year [Kantar 12 w/e 12 July 2020].
Meanwhile, the value of the category rocketed 28.4% to just under £420m, thanks in part to a 13.2% fall in promotions.
Block butters led the way, adding just under £39m to their value to £136.3m – an increase of 40% – thanks to the continued boost to consumer in-home occasions, Kantar said.
"Butter is a home-cooking staple," said Kantar analyst Orla Wilkinson. "People preparing more meals for themselves and their families during lockdown has seen the number of consumers buying a block rise by 25% compared with last year.
"Blocks were used 84 million more times to prepare meals and savoury snacks than last year."
While industry figures suggested sales had slowed down, there is a belief the market will continue to perform strongly in the coming months.
"In our weekly Epos data, we've seen a drop-off," said Ornua Foods UK marketing director Mike Harper.
"[But] of the categories we oversee – particularly cheese – BSM is holding up better. That's possibly to do with the residual effect of more occasions in-home, like home baking."
Harper said the brand penetration for Kerrygold "increased significantly" despite its premium position in the block butter market, as people sought to "bake the best cake".
His thoughts were echoed by Clover and Country Life owner Saputo Dairy UK, which said it expected the economic effects of coronavirus to keep more consumers in the category than there had previously been.
"Even though the nation is being urged back to work, there are still an excess of people either working from home or furloughed or now unemployed," said Emilie Grundy, Saputo Dairy UK's butters and spreads marketing controller.
"Add to this the start of the school holidays and the net outcome is a significant, sustained growth of in-home consumption occasions, notably at lunch and snacking occasions. With many households expected to be impacted financially by the current crisis, this trend towards scratch cooking and baking may continue for some time as consumers adopt a more measured approach to spending, and this has the potential to benefit butters and spreads sales."