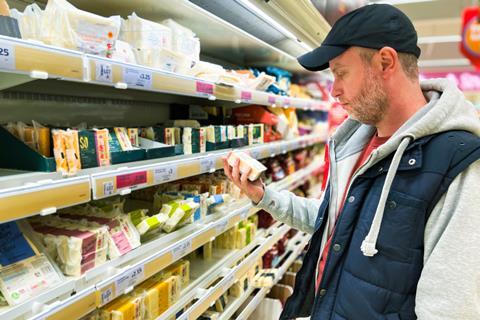 An increasingly vulnerable British cheese sector is facing "a real risk of long-term damage" unless supermarkets stop squeezing often financially stricken suppliers, a new report has warned.
In a departure from the relative stability in the sector over recent years, many cheesemakers were now facing "extremely challenging times", according to Kite Consulting's new Chewing the Cud on the UK Cheddar Market report, published this week.
The sector found itself in a "perfect storm" of challenges, the report suggested.
Cheesemakers – some of which had lost retail contracts in the past few months – were having to contend with weak demand caused by inflationary retail price increases, high stocks on the back of strong milk volumes, plus expensive stock valuations following record high milk prices.
This, plus the higher cost of borrowing, meant working capital costs had increased significantly.
"In addition, many cheesemakers have found themselves in a weak negotiating position, and up against retailers who are battling with their own competitive pressures and who have re-tendered for significant quantities of business," said Kite director and report author John Allen.
As a result, many were now on the brink financially, he added, while others "would generally rather sell abroad than sell in the UK".
He urged supermarkets to take note and address the low returns to cheesemakers – echoing calls from other fresh food categories this year – by showing "a greater understanding of how the supply chain works, and greater buyer empathy towards the challenges it currently faces".
Retailers may be tempted "to have little mercy, given the ample supply situation and the fact that the cost-of-living crisis also hurts their profit and loss accounts, and their balance sheets", he pointed out.
"But it is not in their longer-term interest to squeeze UK cheesemakers until the pips squeak, as that will only further squeeze them and their supplying farmers into further losses."
The net result of a continuation of such tactics would be fewer cheesemakers, fewer farmers supplying them, less milk and less cheese for the UK market. "UK retailers need a strong, viable UK-based cheese value chain who want to supply them," Allen said.
"Those who don't care will increasingly see cheesemakers supply their products elsewhere," he warned. "These retailers will lose out, because over time they will lose the best suppliers, and the best products. They will be left with average products, from average factories, with average service levels."