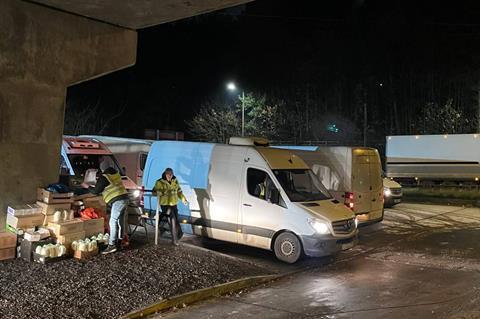 Three companies with links to mid-market milk processor Medina Freshways have been hit with fines totalling over £250,000 for deliberately overloading delivery vans.
On 17 August, three operators – Starling Distribution Services, Freshways Ltd and Medina Capital Dairy Company Ltd – plus 25 drivers were found guilty of overloading, driving defective vehicles and, in some cases, driving vehicles already prohibited from being used, the Driver & Vehicle Standards Agency said.
DVSA enforcement teams across England and Wales stopped vans in an operation beginning in 2019.
But despite being found overloaded or with dangerous defects on numerous occasions, "the companies continued to operate in this way", the government regulator said. 
At the start of December 2022, DVSA then carried out a targeted operation of 11 road checks over nine days across various sites around the country near to the depots of the distribution companies.
Nearly all vehicles were found to be either overloaded or overloaded with a mechanical defect which rendered them unroadworthy, it said.
The vehicle with the biggest overload was found to be weighing 5.5 tonnes, when it should have weighed 3.5 tonnes, the agency added.
Roadworthiness issues included defective brakes, bald tyres, broken springs, a general "dangerous" condition and damaged body panelling.
"Some vehicles which were given immediate prohibitions were already prohibited – meaning they were in use with known defects," it said
One of the drivers, Vinaykumar Jashbai Patel, a director of Starling Distribution Services Ltd, was fined £2,098 including costs. The others were issued with smaller fines, costs and in some instances, points on their licences. The prosecuting judge said it was the companies who were more at fault for allowing their vehicles to be driven with known defects and offences, according to the DVSA.
Starling Distribution Services, which until May 2021 counted Medina Freshways director Ravi Nijjar as a director, according to Companies House records, was ordered to pay a total of £205,660, made up of fines totalling £142,160, victim surcharges totalling £31,600 and costs totalling £31,900.
Freshways Ltd was ordered to pay an overall total of £54,179, made up of fines totalling £30,860, victim surcharges totalling £9,064 and costs totalling £14,255.
Medina Capital Dairy Company Ltd was ordered to pay an overall total of £15,300, made up of fines totalling £8,500, victim surcharges totalling £3,100 and costs totalling £3,700.
"DVSA's priority is to protect everyone from unsafe vehicles and drivers," said the agency's director of enforcement Marian Kitson. 
"This involved significant co-ordination across many of my enforcement teams, to ensure these companies had no place to hide. We target operators who try to undercut the competition by cutting corners on safety or using the wrong type of vehicle. We will not hesitate to take further action should they choose to operate like this again."
Responding to the fines, Medina Freshways MD Bali Nijjar accepted parts of the business "had issues in the past", adding "we take this very seriously".
Freshways was a "tiny subsidiary" operated by a relative in the Leicester area, he said, while the Medina Capital business had since stopped trading.