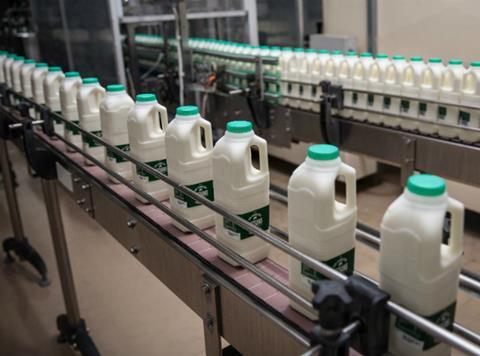 The move comes amid reports spot prices for milk dropped below 10ppl at the weekend

Processors including Freshways, Graham's The Family Dairy and Pensworth have all recently slashed the amount paid to their farmers
Medina Dairy has become the latest liquid milk processor to cut payments to farmers, citing a coronavirus-linked collapse in the foodservice sector and also the wholesalers that served it.
The Berkshire-based processor – which owns the Watsons milk brand – has cut its price for a standard litre by 2p from 1 May to 23.75ppl and will also delay payments for two weeks from 13 April for the foreseeable future.
The move comes amid reports spot prices for milk dropped below 10ppl at the weekend, while some farmers were forced to pour excess milk down the drain.
Medina's price cut is the latest in a long line of reductions by major processors. During the past three weeks, the likes of Freshways (2ppl cut and extension of payment terms), Graham's The Family Dairy (down 1ppl to 24.5ppl), Dairy Partners (down 2ppl to 25.8ppl) and Pensworth (payment of 25%) among others, have all slashed the amount paid to their farmers.
The "regrettable changes" related directly to the impact coronavirus was having on Medina's business "and in particular the revenues from its core foodservice and wholesale market sectors", which had been significantly eroded, it said in a statement.
The processor supplies fresh milk, dairy and bakery products to the retail, convenience, wholesale and foodservice sectors. Medina also supplies directly 150 hospitals and 110 care homes as well as some 7,000 local convenience stores. The business has been rumoured to be exploring a potential merger with rival Freshways since last autumn, and is already working with Freshways on some contract packaging and distribution initiatives.
While there had been a brief uplift in retail dairy sales over the past few weeks, the government's lockdown and closure of pubs, coffee shops and restaurants meant Medina's foodservice sales had reduced "to almost zero", it said.
From a sector that represented a significant percentage of its total business, the processor was now left with "very few customers trading and many who just cannot, or in some cases will not, pay their bills", it added.
"Our overall sales have decreased significantly and our ability to deal with this, both operationally and commercially, is very restricted," said Medina CEO Sheazad Hussain.
"To demonstrate how quickly things are moving, just a few weeks ago we announced milk price rises for March, but we are now faced with significant and unprecedented commercial and financial pressures.
This situation had driven the business to reduce its milk price and delay payment, he added.
"At the same time we are working to rapidly take out costs; reconfigure our foodservice operations and looking for ways to address the cashflow issues that the shock to the market and wider economy is causing," Hussain said.
"We, and we believe other dairy processors, are also speaking to Defra to try and get support from government but so far this has not been forthcoming."