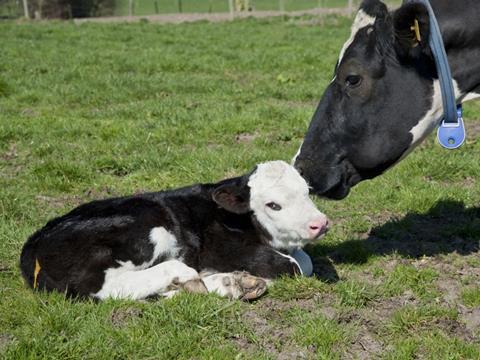 The European beef sector urgently needs to figure out what to do with the increased numbers of dairy bull calves expected to come on to the beef market once EU dairy quotas are abolished in 2015 - or risk a price crash, a new report has warned.

Prices for young bulls in Ireland had already started to drop considerably as the country ramped up its dairy production and it had proved more difficult than expected to find new markets for extra bulls, Rabobank said in its most recent Beef Quarterly.

"This highlights the growing struggle of what to do with 'dairy' bulls in the EU beef industry, a challenge which will increase in the coming years," the bank said.

Dairy cow numbers were already up 1.2% to 23.5 million head, and "the expected growth of dairy bull production after the quota abolition in 2015 is clear," it added.

The veal industry had traditionally been a key outlet for dairy bull calves, but demand had recently come under pressure, meaning new outlets needed to be found, Rabobank said.

"Fattening these bulls to a higher weight, in combination with strong marketing to processors, retail and consumers of both veal and beef, may be the best solution."

In the short term, Rabobank said it expected EU beef prices to stay firm at their current level. Prices were also likely to remain high on a global basis, thanks to strong demand from China and record low cattle numbers in the US, as well as weather-related concerns in the US, Australia and Brazil.

"Prospects for the global beef industry remain positive in Q2, with further possible upside due to continuing pressured beef supply and scarce supply of competing proteins," the bank added.
Commodity prices: utility tariff rises push up Pakistani basmati prices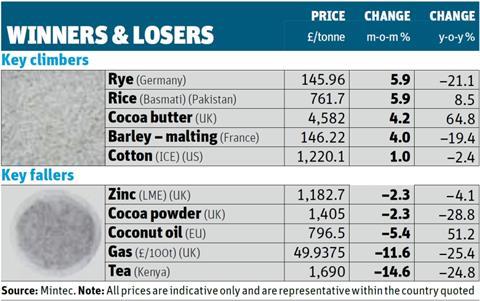 Basmati rice prices are on the rise following increases in electricity and gas tariffs in Pakistan. At £761.7/tonne, Pakistani basmati is now 5.9% more expensive than a month ago and up 8.5% year on year.
Barley also continues to rise on a month-on-month basis - driven by concerns about weather and tensions in Ukraine - though prices remain down year on year.
Meanwhile, tea continues on a downward trend thanks to good supply from Kenya, the world's third-largest producer. Kenyan tea currently stands at £1,690/tonne, down nearly 25% on this time a year ago and down 14.6% on last month.
Also down are UK gas prices, helped by the recent mild temperatures, which have reduced demand.
Prices Digest
Cargill: Cargill has reported a 28% year-on-year drop in its third-quarter earnings, from $445m to $319m. It said "external events" were largely to blame, citing a spike in US power prices, the rejection of US maize shipments to China and "weather-related disruptions to railway service in North America".
Honey: A new EC report on honeybee colonies across the EU has found death rates are lower than feared. The UK, however, was among the six worst-performing countries, with a winter mortality rate of more than 20%.
Rapeseed: The EU rapeseed harvest this season is set to be the second highest on record, according to analysts Oil World. It forecasts a crop of 21.4 million tonnes this year, up 1.8% from 2013.
Biotech: BioConsortia - a biotech start-up from California that is developing new technology for improving crop yields - has announced it has secured $15m in funding from venture capital firms Khosla Ventures and Otter Capital.