It is never boring in dairy, people in the industry are wont to say, and this adage certainly proved true in 2012. The year kicked off with a surprise M&A move - with Müller swooping on liquid milk stalwart Robert Wiseman Dairies - and the white stuff has rarely been out of the headlines since.

Sadly, it has not always been for the right reasons.

Farmgate prices have since started to move up, but there has been little movement on retail prices, with the iconic own-label four-pinter remaining stubbornly around the £1 mark across much of the high street. The effect of this pricing policy is plain to see: the £2.7bn liquid milk category has continued to leak value over the past 12 months, losing nearly £60m in sales - most of it from own label - despite volumes staying largely stable. Although this value sales loss is less dramatic than in 2011, when the sector lost nearly £170m, the fact that value and volume sales continue to move in opposite directions suggests the sector is still far from healthy.

Unsurprisingly, these market conditions have proved a tough test for many brands. In a category already dominated by own label, sales for all three leading brands - which together account for nearly 50% of branded sales - have slumped over the past 12 months.

Cravendale senior brand manager Sam Dolan admits trading conditions have been challenging, but argues the brand is holding up well under the circumstances. Despite losing £2.3m in overall sales across the past 12 months, Cravendale has continued to do well with so-called 'high loyals' - shoppers for whom the brand accounts for more than 50% of total milk purchases - with value and volume up by nearly 10%, she claims.

Encouraging loyalty will be a key focus for the brand in 2013, Dolan adds, with a new loyalty scheme scheduled for spring 2013. The brand will also invest £12m in advertising next year, the same amount it spent in 2012.

Wiseman's Black & White milk, meanwhile, has dipped 1.9% in value sales and 9.8% in volume. But Sandy Wilkie, sales and marketing director at Müller Wiseman Dairies, says the brand "has seen significant growth in the round-pound and high-street discounter sectors" not covered by Nielsen's data.

"Black & White continues to break new ground with the further development of regional labels," he adds. "We will continue to invest and develop the local brands, which have strong support among retailers and consumers."

Although our top brands have struggled somewhat this year, it's not been bad news for all. Dairy alternatives had a strong 2012, albeit from a much smaller base, with Alpro adding £4.2m in sales on the back of a strong run of NPD, including a move into nut-based milks in January. Meanwhile, Lactofree has broken into the top 10 this year following a £3.7m rise in sales. The Arla brand has worked on boosting its profile this year, investing in a TV ad directed by Mighty Boosh director Paul King and featuring a lactose-intolerant hedgehog a wider overhaul is planned for next year.

The market for alternative milks is set to stay lively in 2013 - Arla is planning to revamp Lactofree's packaging in the new year, and all eyes will be on the Müller Wiseman-backed A2 milk, which launched in the UK in October and is marketed as an easier-to-digest alternative to conventional milk.

It has also been another stellar year for flavoured milk brands. The total category grew by £25.3m, of which £21.2m came from brands - a year-on-year growth rate of 13.1%.

coffee proved to be the undisputed flavour of 2012, driving key NPD initiatives for the category's leading brands and delivering very impressive double-digit growth rates for coffee-focused brands such as Starbucks and Emmi. Coffee drinks are doing well because consumers are increasingly looking for high-quality chilled coffee in convenient formats, says a spokeswoman for Starbucks. "Starbucks Ready to Drink offers a great Starbucks experience, wherever and whenever you want it," she adds.
"There was a pressing need, and opportunity, to reposition the brand and revamp packaging" Danone Actimel
In response, brands have been busy introducing a number of coffee-shop favourites to retailers this year. Emmi launched the Flat White, as well as a vanilla-flavoured limited edition earlier in 2012, while Mars entered the coffee drinks fray with the launch of two mocha flavours under its Galaxy brand. ready-to-drink

Coffee also played a key part in the NPD strategy of market leader Frijj this year, which added a caramel latte variant in a bid to make flavoured milk more appealing to women. The Dairy Crest brand also made significant progress in broadening its footprint across the c-store sector, launching a UHT version (see p105).

The European Union's dislike of the word 'probiotic' has made life tough in yoghurt drinks in recent years, but the category at last appears to be showing gentle signs of recovery. After category sales plummeted by 4.5% last year, they are down by a less worrying 0.7% this year. Much of this is down to category leader Danone Actimel having refound its mojo. After losing 7.8% in sales in 2011, the brand has managed to stabilise its performance, helped by an April packaging and branding revamp - its first in 10 years.

"Performance of the category in which Actimel sits has been challenging in recent years," says a spokeswoman. "There was a pressing need, and opportunity, to reposition the brand and revamp the packaging to maximise consumer interest."

This year's sales figures suggest that strategy is starting to pay off.
TOP LAUNCH 2012
Frijj UHT Dairy Crest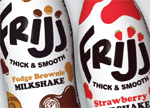 This year's milk top launch is something of a no-brainer. Even so, it did take the marketing minds at Dairy Crest almost 20 years to come up with the idea of extending its fresh Frijj milkshake into an ambient format. It is early days, with the product having made its way on to British shelves just a few weeks ago - but we think Frijj's heritage and brand presence in fresh milkshakes could make this UHT newbie a mighty contender to the likes of Yazoo and Mars in the convenience channel.