A new £1m ad push funded by the dairy sector, Defra and the devolved nations will launch this weekend in a bid to increase dairy consumption in the home and highlight mental health issues.
The 12-week Milk your Moments campaign focuses on the importance of human connections during the coronavirus crisis and the role of dairy products in those connections – particularly through tea, coffee and milky drink occasions.
It has been funded through the combination of a £500,000 investment by Defra and the devolved nations, £300,000 from a variety of large and small dairy processors and other industry bodies through Dairy UK and other and £200,000 from AHDB. Discussions are also ongoing to potentially increase the funding pot over the coming weeks, said Dairy UK.
The campaign creative's main focus will be to encourage people to submit user-generated content through social channels depicting their own "moments of connection" around dairy consumption. Display, radio and out of home advertising around supermarkets will follow throughout May, before a TV ad – the sector's first in more than a decade – airs in June, containing a selection of user videos.
"Dairy has always been the centre point for moments of human connection, from a pizza party for the kids, to catching up for a cuppa with family," said AHDB head of marketing for crops and dairy Rebecca Miah. "These moments of connection have never been so important for mental wellbeing than while we are physically apart."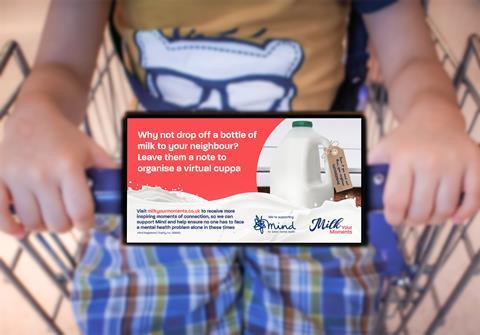 As part of the campaign, £1 will be donated to mental health charity Mind for each new interaction with the Milk Your Moments website, up to a total of £100,000, with the funding in addition to the ad budget and drawn from dairy processors. A variety of competition prizes will also be up for grabs over its duration.
After a turbulent period for the sector, it was hoped the campaign would provide a "measurable positive impact on the reputation of dairy", Miah added, while "galvanising the dairy industry towards a common goal" and creating a positive narrative for consumers.
"Dairy has always been there for consumers and a part of their lives," said Dairy UK CEO Judith Bryans. "Now more than ever we want to show how dairy moments can help people connect and reconnect with one another, and this campaign is going to help us do that."
It comes as Defra announced last week that England's dairy farmers would be able to access up to £10,000 each to help them overcome the impact of the coronavirus outbreak.
"This pandemic has hit the whole of society, with the dairy sector affected alongside everyone else," added Bryans. She stressed the sector had benefited, not just from government support, but also from its own actions to reduce production in the wake of the collapse of the foodservice channel.
"Thanks to the quick action taken by companies and farmers we have mitigated the potential impact of the spring flush as much as possible," she said, citing new research by AHDB which showed farmers cut 23 million litres from production in April.
"Of course, we can't replace the value of the sudden loss of food service and we'll anticipate some issues as a result of the world market situation as time goes on. But we will face forward with positivity and in the knowledge that throughout this period of challenge, we have continued to operate and everyone has worked hard to continue to provide consumers with the dairy products they love."