On the face of it, little has changed in yoghurts and desserts over the past 12 months. Total category value sales have continued to increase at a decent rate of 3.3% - putting growth roughly in line with last year's 2.9% - and the category's five biggest brands have all held on to their 2011 positions in our ranking.

But delve deeper and troubling trends are emerging for yoghurts and desserts brands. The category's biggest hitter, Danone Activia, has gone from 3.6% value growth in 2011 to a 1.7% decline this year, wiping £4.2m off its value in the process. There is also trouble in some parts of the Müller portfolio - its top-performing brand, Corner, has lost nearly £1m in sales over the past 12 months, while Müller Rice has slipped three places, from seventh to 10th, following a 12.4% loss in value sales.

The three brands have also seen volume sales fall on a per kg basis, although Müller points out Corner is in growth in terms of the number of pots sold. In fact, declining volumes are now a problem across the entire category. All of our top-five brands and 12 of our top 20 have lost volume in the past 12 months, contributing to a total volume loss for the category of 2.2% this year compared with volume growth of 0.6% in 2011.

Danone trade marketing manager Peter Joubert makes no bones about the fact that 2012 has been a tough year for Activia's core range. "The difficult economic environment continues to push shoppers towards cheaper alternatives," he admits.

But there's more to the difficulties of the big yoghurt brands than cash-strapped consumers switching to cheaper - typically own-label - alternatives. In many cases, they are turning away from yoghurts altogether, according to Nielsen senior client manager Nicole Teh, who says the category has lost £31m in sales to categories such as sandwiches, breakfast cereals and ambient desserts this year.

Danone is determined to fight back, says Joubert. To encourage consumption at breakfast, for example, the company launched a granola-topped breakfast pot this year, and Müller is also injecting new dynamism into its portfolio, refreshing packaging and reformulating its Corner recipes.

Despite the tough conditions at the top, some smaller brands have managed to put in strong performances. Weight Watchers has added £1.8m in sales, boosted in part by a new Greek-style variant, and big pot stalwarts Rachel's and Onken have also had a good year, with Emmi-owned Onken climbing two places to seventh position on the back of a packaging revamp and a £2m TV ad campaign. Meanwhile, Total is proving consumer interest in all things Greek yoghurt remains high, posting double-digit value and volume sales growth to reach £30.5m this year.
TOP LAUNCH 2012
Chobani Chobani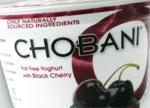 Were further proof needed that 'Greek' is the key NPD story for yoghurts at the moment, the UK debut this year of the US's biggest Greek yoghurt brand - Chobani - delivered just that. Six variants of its yoghurts went on sale in Tesco in September, and the company has gone on to make plenty of headlines since, not least because it's being sued by Total owner Fage over the right to call its US-made yoghurts 'Greek' - and has temporarily removed all references to 'Greek' from its packaging.