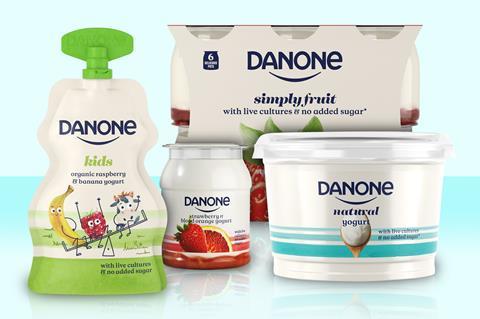 Danone has launched a new range of yoghurts using only "simple" ingredients - which is the first to be sold in the UK under the Danone masterbrand.
The range contains no added sugar, artificial sweeteners or artificial flavours and consists of Simply Fruit yoghurts in 145g single serve pots and 6x100g multipacks, and Simply Fruit & Veg yoghurt lines in 6x110g multipacks and 450g sharing pots.
It also includes a four-pack of 70g organic kids' yoghurt pouches and a 450g natural family sharing pot. Flavour combinations include strawberry & blood orange and blueberry, blackcurrant & beetroot.
The range, which catered to increasing calls from shoppers for "simple, sustainable products that align with their personal values", was developed using recognisable ingredients, such as milk, live cultures and a fruit layer, said Danone.
The dairy giant cited its own research of 1,004 millennials and 1,006 over-65's in November, which revealed modern families were suffering from food label 'fatigue' and were tired of purchasing products with too many listed ingredients.
Some 72% of millennial families wanted products with simple ingredients they had heard of while 81% wanted clear and simple labelling of products to help inform their purchases, it said.
"Doing good is about more than just making delicious yoghurts with no added sugar," said Danone UK general manager Adam Grant. "It's about doing our bit for families, our communities and our planet. That's why our new range focuses on simply what matters and caters for all the important daily family moments, which we know help to build sustainable eating habits.".
The range went on sale nationally this week, with prices ranging from £1 for single serve pots, £2 for sharing pots, £3.50 for multipacks and £2.29 for the kids' pouches. All pots and cardboard are 100% recyclable, while the pouches are recyclable through the Terracycle scheme.