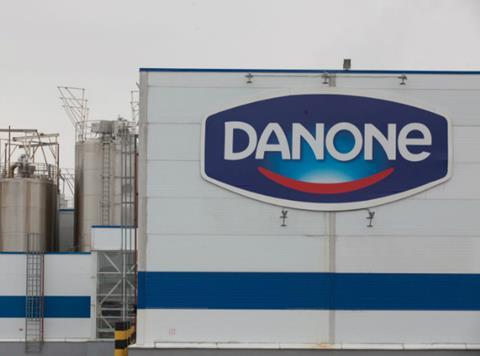 The sustainability credentials of Danone have been boosted after its UK dairy business became the first British dairy company to achieve certification by global sustainability NGO B Corp.

The owner of the Actimel, Activia and Light & Free brands this week joined four other global Danone businesses (Danone Spain, Happy Family, Les Pres Rient Bio and Danone Aguas Argentina) in achieving B Corp certification.

It marks the latest step in the food giant's bid to roll out B Corp certification across its entire global business.

B Corp certification "is to business what Fairtrade is for coffee", said the NGO's non-profit parent B Lab, and recognises companies that meet the highest standards of overall social and environmental performance, transparency and accountability.

"Essentially, it's about aligning business interests with those of society and working for a purpose as well as profit," said Danone Dairies UK in a statement. "We will be measuring and transparently disclosing social and environmental practices, celebrating successes and making improvements where we have gaps," added Danone Dairies UK market director Craig Read.

"We're really proud to achieve B Corp certification and we're committed to maintaining the incredibly high standards B Corp represents," he said.

"Our B Corp certification demonstrates our long-lasting commitment to economic success and social progress, reinforced by our global One Planet One Health vision, which represents our belief that the health of people and planet are interconnected," Read said. "People want and deserve to know the intent behind brands and B Corp status can serve as a trust mark."

B Lab UK executive director Katie Hill added: "The world is changing, and it's important that businesses recognise this because they truly have the power to make a positive impact.

"We are delighted at the leadership shown by Danone, and Danone UK, in recognising and taking responsibility for issues around sustainable and environmental change. Their commitment will hopefully help to drive other large companies to consider what changes they can make for the better in their own businesses."

It comes as Danone this week announced a "new phase" in its partnership with Yakult to strengthen their longterm strategic collaboration in probiotics.

Building on an alliance started in 2004, the pair announced the joint creation of a new Global Probiotics Council to promote probiotics "as part of a balanced diet". They will also study the feasibility of new collaboration projects such as the distribution of Yakult's products by Danone in European markets where the brand is not currently engaged in substantial business, with Spain as an initial test market.

But in accordance with its continued focus on disciplined capital allocation, Danone said it planned to divest part of its 21.3% stake in the Yakult business.

The sale would be carried out through a market transaction launched on 14 February by Yakult which was expected to settle in March. Yakult has also announced a 36bn Japanese yen share buyback program in which Danone will participate.

Danone is ultimately targeting a shareholding of approximately 7% of Yakult's total outstanding shares following the completion of the transaction, which will retain its position as the company's largest shareholder and its seat on the Yakult board.