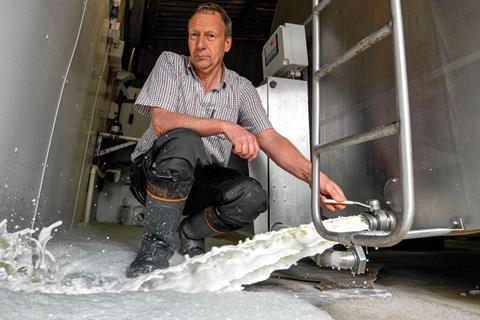 Defra has been accused by sources of not taking the sector's concerns seriously

The NFU has called for a series of interventions, including financial support and a relaxation in competition law

The UK is short of processing capacity to convert excess milk into powder
The government is failing to recognise the severity of the crisis enveloping the dairy sector and is yet to present workable solutions to tackle the collapse in the market, say senior industry figures.

Talks between processors, farming bodies and government officials reached "stalemate" this week, The Grocer understands, with Defra accused by sources of not taking the sector's concerns seriously.

The coronavirus shutdown and subsequent collapse in the foodservice market has led to a number of processors cutting farmgate prices due to an excess of milk, while farmers have been forced to pour unwanted milk down the drain.

With the situation now described as "desperate" by the NFU, industry representatives had been hopeful proposals presented in a conference call with Defra on Wednesday would offer concrete solutions.

But it is understood Defra officials remained sceptical over the full impact of the crisis, and are yet to agree to the series of "modest interventions" presented by the NFU to avert what its president Minette Batters described as a "national catastrophe".
These included financial support for dairy farmers affected by cuts to farmgate prices, a relaxation in competition law and incentives to reduce milk production by up to 8%, alongside calls for engagement with the European Commission on market support schemes.

Ahead of the meeting, Defra secretary George Eustice said he had been "in regular contact with the NFU and other representatives from the dairy sector to ensure they are supported".

But the government could only offer the sector access to the EU's intervention scheme, said NFU dairy board chairman Michael Oakes.

That involved the EU buying up stocks of commodities such as skimmed milk powder, but given the UK was already short of processing capacity to convert excess milk into powder, the solution was described as a "blunt tool" by Oakes.

"We've worked closely with Defra on this issue for a long time," he added. "The collapse of the market means every processor and farmer will be affected in some way. So we were disappointed by the response."

Another senior industry source suggested some Defra officials were not fully briefed on the proposals. Others told The Grocer Defra was unconvinced of the severity of the situation and had asked for more information from industry representatives - a position that incensed many listening into the call.

"We're not talking about a fortune here," added one senior source. "The proposal is to buy time for the sector to kick back in, rather than decimate the industry. Defra would never be forgiven if it allowed an iconic industry to be taken off the market in this way."

Defra has been asked to comment.