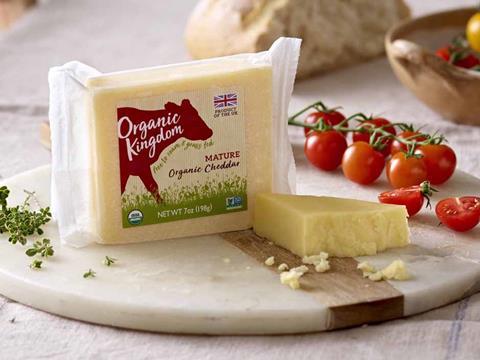 The imposition of US tariffs on a host of European goods in October has had a "massively disruptive" impact on UK organic cheese exports to the country, according to dairy co-op Omsco.
The 25% tariffs on a swathe of European goods, including UK-manufactured cheese and single malt whiskies, were introduced in retaliation for what the US Trade Representative described as many years of "massive subsidies to Airbus that have seriously injured the US aerospace industry and our workers".
But despite the US government's stated intention for the tariffs to benefit US producers, taxing Omsco's cheese and dairy commodity exports would only damage US importers and Omsco's partners at US farming co-operative Organic Valley in the long run – as Omsco would have to pass on the extra costs, suggested Omsco MD Richard Hampton.
The move was estimated to cost Omsco – the UK's largest organic dairy exporter to the US – as much as $7m (£5.3m) in its first year in place, Hampton said, affecting both cheese and butterfat exports in particular.
"Most people stockpiled dairy products in the US after the tariff announcement. But it is now, during the holiday season [as demand for cheese picks up] that things are really starting to bite," he added.
The joint venture between Omsco and Organic Valley sees the US co-op market Omsco's Kingdom cheese in the US, while also acting as a transatlantic milk balancing pool, with Organic Valley dairy commodities such as cream exported back to the UK.
As a result of this arrangement, much of the cost of the tariffs would ultimately be picked up by the US farmer owners of Organic Valley through more expensive cheese, Hampton pointed out.
"Omsco is effectively the [UK] export market for organic dairy products. We represent the majority of UK butterfat sales, and 10% of the UK's cheddar exports to the States every year – all from 2% of the country's milk," he added.
"This tariff falls largely on us and other UK cheesemakers as we are exposed to that market," Hampton said. But while the full impact on availability in the US and Omsco's US sales would only emerge in the coming months, he stressed the supplier had already engaged with customers to recover its costs from the market.
"We are working with Defra to lobby where we can, and we are also lobbying directly in Washington and working very closely with our US farmer partners at Organic Valley to highlight the damages it is doing to their business in the US as well as Omsco."