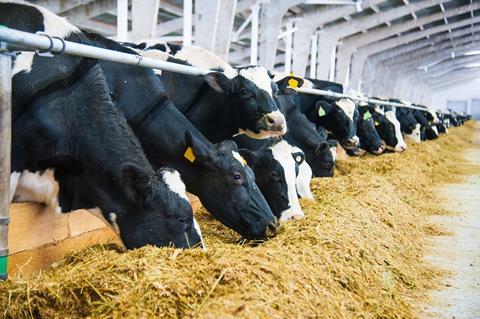 Inflationary pressures drove farmgate milk prices to a new high in March. However, a growing number of dairy farmers are warning the increases are failing to keep up with soaring input costs.
Defra's UK average milk price for March stood at 36.79p per litre, up 2.5% on February's record high of 35.88ppl, and 23.5% above the five-year average price.
But a poll of around a hundred of animal nutrition business KW Feeds' customers – drawn from dairy farms of a variety of herd sizes across the UK – found 74% felt their milk price was not keeping up with rising on-farm costs.
As a result, some 62% of respondents said they would take advantage of more grazing this year to try and control feed costs, suggested KW Feeds' head of ruminant technical Georgie Croxford.
However, she warned such a move could also introduce "a different series of challenges" around cow performance and nutrition. And this could ultimately impact on production yields – something AHDB forecasted last month could already fall by 5.3% this year due to the increasing cost of production.
The poll follows the publication of fellow feed supplier AF's twice-yearly Aginflation Index last month, which showed food producers had seen average input costs rise by 46% over the past 18 months, with feed prices alone up 27% over the past six months.
And with milk supply tight and average farmgate prices set to continue climbing – following big increase announcements of between 3.5ppl and 5ppl by the likes of Saputo Dairy UK, Müller Arla and Freshways over the past fortnight – more retail price inflation across the dairy category was now expected, suggested John Allen, director of Kite Consulting.
Assosia data for The Grocer shows this process has already begun, with milk seeing significant price increases since the start of April. The price of four pints has risen by 8.7%% to £1.25 across the big four, Aldi and Lidl, and to £1.30 in Waitrose.
Branded, added-value products such as Cravendale and Lactofree have also seen increases of as much as 40p per product in some retailers over the past month, with a number of filtered and lactose-free own label products also seeing significant hikes.
A raft of own label cheese lines have not been immune to inflationary pressures either, with for example, almost 40, 400g cheddar lines having seen price increases ranging between 10p and 20p since mid-March in the same retailers.
Block butters are also seeing similar upward price movements, helping contribute to a total of 613 price increases in the aforementioned retailers across the milk, butter and cheese categories have seen 613 price rises since mid-March. By comparison, the same period last year saw only 139 price increases.
Allen warned this could merely be the start, with retailers forced to pay more amid short supply and continuing strong consumer demand in the coming months.
Kite is estimating this could lead to four pints costing as much as £1.60 by the end of the year due to these market conditions. "But retailers will have to make their own decisions about whether to make milk a loss-leader," he pointed out.