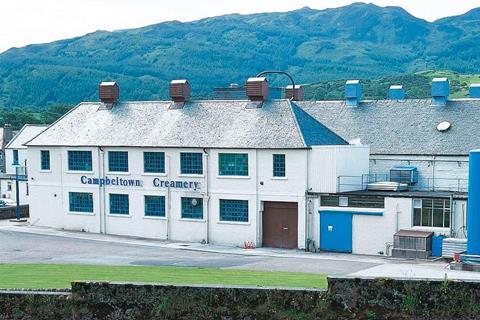 First Milk has confirmed it intends to close its Campbeltown Creamery on Scotland's Kintyre peninsula, with 14 jobs at risk.
The dairy co-op has launched an employee consultation at the site – which was first put up for sale in April 2018 alongside its Arran creamery – after they were deemed to be no longer core to its business strategy.
First Milk confirmed it would close the Arran site in July, and despite a "significant effort over the past 18 months", it said it had not been possible to conclude a sale of the Campbeltown creamery – which manufactured the premium Mull of Kintyre cheese.
When it became clear a sale to a third party was unlikely, local Kintyre farmers launched a crowdfunding campaign during the summer, with almost £95,000 raised as of this week.
But despite "considerable work to find a way to take the business forward" from the farmers' steering group and their advisers, the Scottish government and staff at the creamery, they were forced to admit defeat this week after failing to find a "financially viable long-term business plan for the creamery", First Milk said.
Many multiples of that figure in working capital would have been required to continue production, it added.
First Milk CEO Shelagh Hancock said she was "disappointed" the supplier had not been able to conclude a sale, and "regretted" the decision to close the plant.
"We fully appreciate this decision has significant consequences for colleagues at the creamery and the local community, but it is important we act in the best interest of the wider business and our farmer members and continue with the solid progress we have made in strengthening and developing First Milk."
Farmers supplying milk to the creamery would remain members of the co-op, she stressed "and we will continue to collect and pay for their milk on the same basis as before".
Kintyre steering group chairman James Barbour said it was "the right decision" to investigate all avenues to keep the creamery open in Kintyre.
"There was widespread enthusiasm from the local farmers to try to secure the future of the site and genuine support from First Milk, the Scottish government and the local community, along with a successful crowdfunding campaign," he said. "Despite all of this we were not able to find a financially viable long-term solution for the creamery. I would like to thank everyone who has supported us through this period."