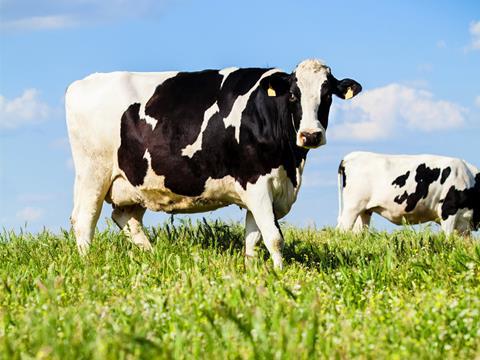 Free-range milk brands are a bit like buses, it seems. Just a few days after The Grocer revealed new brand Enjoy Milk was gearing up for launch, we can also reveal rival brand Free Range Dairy Farmers is almost "ready to go", according to its owner.

Although the brands have yet to hit supermarket shelves, they both have big ambitions. The people behind Enjoy Milk say they want to transform free-range dairying in the same way the egg industry shifted away from caged hen colonies. John Goodwin, owner of the new Free Range Dairy Farmers brand, says he wants his to become a major national brand.

But while both claim to offer "free-range" milk, the two brands have surprisingly little in common, with markedly different approaches and standards. So what does free-range milk really stand for?

In principle, the prospect of two new milk brands going on sale this year is good news for the industry. Commoditisation is a huge problem for the dairy sector, and branding a key way to add value. No surprise, then, that the launches have been welcomed by NFU dairy board chairman Michael Oakes, who says they bring "more differentiation in the milk aisles".
"We don't want to dismiss opportunities for farmers to earn more money, but a matter of real concern for me is that we must have real substance and standards in free-range milk"
However, the devil will be in the detail. There is much debate as to how much this milk will cost to produce, how much it should retail for, and whether the major supermarkets will even list it. Both ventures cite "strong interest" from consumers and supermarket buyers, but tangible detail on this and how the milk will be marketed is ­currently thin on the ground.
Goodwin says his packaging for the Free Range Dairy Farmers brand is ready for any orders that may come its way, adding "we can guarantee all our milk will come from Pasture Promise-accredited farms, and we can ratchet up production". Yet he concedes the success or failure of either brand ultimately "depends on whether a retailer can give us a go".

But arguably the biggest obstacle to success for the two brands is the lack of legal definition on what actually constitutes free-range milk, suggests John Allen of farming consultants Kite Consulting.

No legal definition

"It's not like the situation with free-range eggs, which stipulates free-range birds have to have access to outside at all times apart from when there are issues such as avian flu."

Indeed, the Enjoy Milk brand came in for flak from some quarters last week over the lack of detail regarding how it classifies free-range milk, with spokesman Rob Ward stating it means farmers have to allow cows to graze outside "whenever the weather permits".

Ward insists "it's not for us to tell farmers when to put their cows out". But he insists Enjoy Milk has a technical team "working on strict criteria".

On the other hand, Pasture Promise clearly states cows need to graze outside for a minimum of 180 days a year.
Pasture Promise founder Neil Darwent was quick to differentiate his scheme from Enjoy Milk this week, and took to Twitter to insist his standard "represents a defined farming system where free-range cows graze 180 days a year" - just as Enjoy Milk unveiled its brand. "We don't want to dismiss opportunities for farmers to earn more money, but a matter of real concern for me is that we must have real substance and standards in free-range milk. We need clear definitions of what free-range milk is and if we're not careful a lot of good work could be lost," Darwent says.

Combine these varying definitions with the supermarkets' own existing policies on milk - the Co-op has a grazing policy for all of its cows, while M&S and Waitrose say cows should be outside for at least 100 days a year - and it's no wonder Allen forecasts "a danger consumers will get totally confused. The danger is that the industry will get lost in debate over what the term actually means," he says.

So before asking whether free-range milk will make an impact, the more pressing issue is to define what 'free-range' actually means.