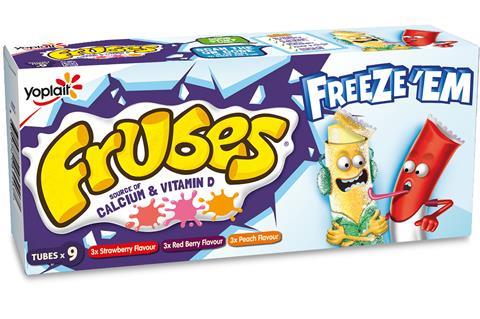 Frubes has launched its largest-ever ad campaign to encourage consumers to try freezing their Frubes.
The campaign has been supported with three limited-edition packs, a six-figure investment, summer sampling, media and social support.
Frubes can be safely frozen on the day of purchase and offer a calcium and vitamin D enriched alternative to a traditional dairy ice lolly, the brand said.
"We are the only yoghurt brand in a tube and the only one to offer the versatility of being able to freeze," said Ewa Moxham, head of marketing at Yoplait UK. "We are confident kids are going to love having one of their favourite snacks in a frozen format, especially as the weather starts to warm up."
The investment has supported a new advertising creative around freezing Frubes, and how they can be put into lunchboxes frozen and defrosted by lunchtime – helping to keep lunchboxes cold and remaining a health snack.
The new campaign will run across traditional media and social, including influencer outreach to raise the brand's profile.
Frubes is also offering sampling and a new freeze-themed on-pack augmented reality game.
"We are putting some serious investment and support behind Frubes this summer and would encourage our retail partners to stock up and give great features to Frubes as we're confident sales will fly," added Moxham.