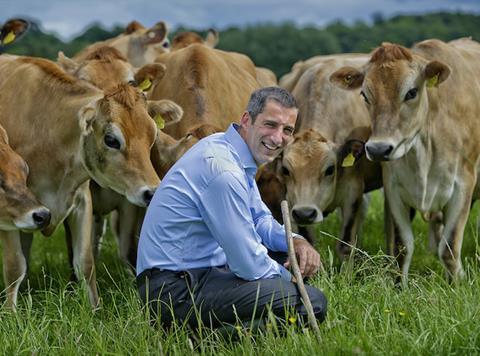 The boss of Scotland's largest independent dairy company has called on farmers to reduce milk production in light of continuing market volatility.
A glut of milk from its 98 dairy farmers and the ongoing slump in global demand has forced Scottish producer Graham's the Family Dairy to slash its farmgate price.
Graham's reduced both its 'A' formula price (representing 90% of milk produced) and its 'B' price (representing surplus litres of milk) yesterday (15 July), by 1.5ppl and 7ppl respectively.
This means it is now paying farmers 23.75ppl for 'A' volumes and just 7ppl for 'B' volumes – a move described by the National Farmers Union of Scotland (NFUS) as "yet another blow" to the struggling dairy industry.
However, Graham's MD Robert Graham said the price cut reflected the current state of the market, with average farmgate prices for May at 24.06ppl, down 20% on May 2013 prices [AHDB Dairy].
"There is just too much milk around so we had no choice but to review the situation," he added.
Graham warned that as prices had fallen "many producers have just increased production, which is like putting petrol on top of a fire".
He added that some dairy farmers were 50% above their 'A' litre allocation, while secondary milk prices for surplus milk were also "incredibly weak, that is if we can sell it".
The price cut had been a "hard decision" which was made in order to "maintain a long-term relationship with our farming partners", said Graham. Without making such cuts, he warned that the processor would have little choice but to end some producer contracts.
"There are a number of Scottish and UK producers that have already done that but it is not a route we want to be forced down," he said. "Graham's provides an outlet for the milk of 98 farmers, so if the message is listened to and production is dialled back then we can review pricing again quickly."
NFUS milk committee chairman Graeme Kilpatrick said milk producers supplying Graham's had been "left angered by the way this latest price cut had been communicated", with many having invested greatly in their businesses over four to five years, "but now left seriously considering their options".
He added that "milk buyers have a duty to alert producers in a reasonable fashion so that they can adjust their production and avoid the damaging impact sudden price changes can have".
However, a spokeswoman for Graham's responded that all producers had been contacted individually by the company in June over the price cuts.
"What is happening in the market makes the need for our plans for new processing capacity and step-change investment all the more pressing," said Robert Graham.
"It is crazy that the largest spreadable butter brand in Scotland is Danish, the largest cheddar brand is Cornish and the largest two yogurt brands are French and English," he said. "We want to change that for the benefit of our farming partners and Scottish customers."