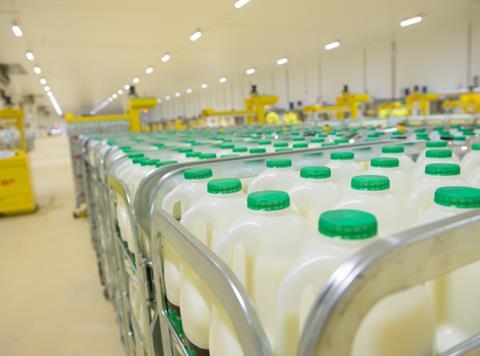 The UK liquid milk sector is over-supplied and in a 'precarious financial position', a new report has suggested, with the lack of returns to processors and pressure on margins showing no sign of abating.
While uncertainty in the liquid milk sector was not a new phenomenon, the combination of declining milk consumption, lower retail prices and too much volume sold at marginal, or non-competitive pricing, placed the sector in a compromised position, warned Kite Consulting.
Average retail prices had fallen by 21% from about £1.39 to £1.10 for a standard four-pint bottle of own-label milk between 2013 and 2019, said Kite's report, The Future of the Liquid Milk Sector. At the same time, consumption of liquid milk had fallen by 26% since 1998, with too many processing plants ageing and underinvested.
This meant there was little chance medium-sized operators would have the finances to grow into a major 'Champions League' milk supplier to the mults such as Müller or Arla, the report suggested.
There was also a danger the sector was entering a 'last man standing' scenario, it warned, where businesses operated in the belief a rival would exit the industry before themselves. And with an increasing amount of volume traded at marginal prices, there was a fear this would become the major driver for the industry, making it 'very difficult' for the sector to become profitable and sustainable in the long term.
'The liquid milk processing sector has not responded to the changing market fast enough, which has compounded the issues,' it added. 'Undoubtedly, there is inevitable inertia in an over-supplied market, as competitors seek to out-compete each other to survive.'
Assuming Müller did close its under-threat Foston plant in Derbyshire, the capacity of the top processing plants in the UK would shift closer to total market demand.
However, the sector desperately needed further investment to facilitate the continual development, improvement and promotion of all sites in the UK, the report said, with a minimum of 2p per litre required in extra payment to processors to safeguard the sector's future.
"We are concerned the lack of returns throughout the liquid sector means we risk further instability," said Kite managing partner John Allen.
"It means that we risk entering a vicious cycle of a market in decline, under pressure from non-dairy alternatives, with insufficient funds for the sector to protect and promote itself."
Current developments to remove production capacity (such as Müller's plans to close Foston) should rebalance the market and result in better true pricing throughout," he added. "Yet there will be winners and losers given the obvious challenges ahead, and it is important all businesses, from farmers to retailers, identify if their processing partner can thrive going forward. Now is the time to align with those who will end up the winners."