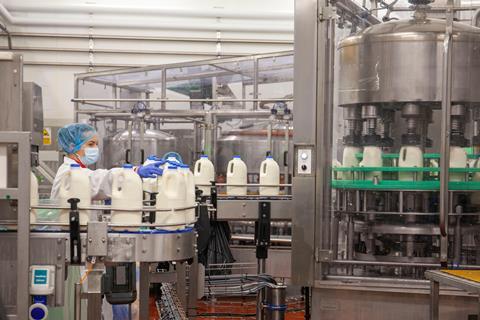 McQueens Dairies has opened a new facility on the outskirts of Glasgow in response to a coronavirus-linked surge in demand for its doorstep delivery service.
The Scottish company has opened its multimillion-pound 6.5 acre milk processing plant at East Kilbride amid close to a 30% increase in the number of doorstep deliveries made since March.
The site, which was formerly owned by Müller, features a new refrigeration plant, pasteurising equipment and filler lines, as well as what it called a "significantly enhanced" glass bottling line. It also has the capacity to process apple and orange juices.
McQueens said the new facility would more than double its milk production capacity, with chairman and co-founder Mick McQueen adding that the business would now be able to "confidently meet increasing customer demand".
"Our doorstep milk delivery business was growing significantly before the coronavirus pandemic hit the country but we have witnessed significantly faster growth as people demanded safer and reliable food delivery services," said McQueen.
"We are confident that demand for safe and reliable doorstep deliveries will continue. We're looking at other new locations for additional distribution depots across Scotland and the north of England to meet demand, and to recruit more milkmen and milkwomen to work across the whole of our distribution network."
He added the company had already recruited more than 100 new people over the past year, a target it had set itself in the summer of 2019.
It comes amid a positive year for DTC milk businesses, which have seen a large increase in demand since the start of the pandemic.
In September, Müller revealed its Milk & More service had added more online customers in the first eight months of 2020 than it did during the whole of 2019 after signing up 85,000 people.