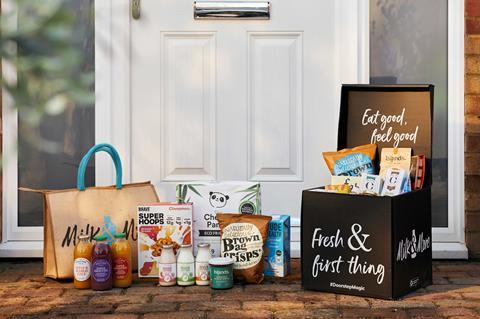 Milk & More has partnered with wholesaler Wholegood in a move that will double its grocery range and reduce delivery mileage by 35%.
The Müller-owned doorstep delivery service has added 150 new lines to its offering as part of the tie-up, with products now available including River Cottage organic kefir, Minor Figures oat drinks and Montezuma chocolate.
Wholegood was already one of the service's main suppliers of fresh fruit & veg.
The new deal will also see Wholegood's products distributed directly into Milk & More's glass milk bottle processing site. From there, they will be cross-docked and delivered to the business' 45 fulfilment centres, along with its fresh milk offering.
By putting milk and other products on the same lorry, vehicle utilisation would be improved, and frequency of product delivery increased, Milk & More said.
This would lead to a reduction in road miles of 35%, with HGV deliveries into Milk & More sites down by 13,000 over the course of a year. There would also be an improvement in product freshness and date codes, it added, as well as a reduction in food waste levels for the business and its customers.
"By working together, it allows us to further improve the sustainability of our supply," said Milk & More CEO Patrick Müller.
"The new partnership with Wholegood offers us the best of both worlds – more product lines, great freshness, superb quality, fewer lorry miles and less impact on the planet – all of which we know matters to our customers."
Changes to Milk & More's product distribution began at the start of February and will continue over a period of two months.
Carl Saxton-Pizzie, chief growth officer and founder of Wholegood, said: "We are delighted to be putting our experience within this sector to work with Milk & More and assisting with this next step in their success story as a leading doorstep delivery service."