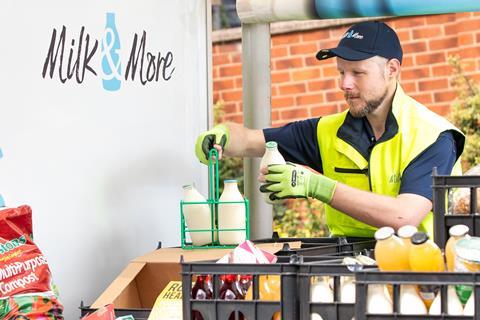 Müller's Milk & More signed up more online customers in the first eight months of 2020 than it did during the whole of 2019, the company's data has shown.
However, the doorstep delivery arm of the dairy giant has continued to face difficulties – first revealed earlier this year – in keeping up with demand, with continued service issues hampering its operations, according to customers.
Milk & More welcomed 85,000 new online customers from January to the end of August this year, with 33,000 of that number signing up during a two-week period over March and April.
In 2019, 75,000 consumers signed up to the platform.
At the height of lockdown, Müller said visits to the Milk & More website went up by 300% compared with pre-lockdown levels. Glass bottled milk was said to be the biggest seller, with more than 78 million pints delivered from March to August.
"With sales more than tripling, we experienced unprecedented demand for our service," said Milk & More CEO Patrick Müller.
"At one point we were making 1.3 million deliveries a week, and we are still experiencing a very high demand with 1.2 million deliveries every week.
"We have been at the heart of the communities in which we serve for over 100 years, and as we modernise the traditional milkman into a modern convenient delivery service, we have never been more aware of that importance, than in these last six months."
Other products available on the platform that saw a dramatic increase in value sales included cheese (+1,500%), yoghurts (+314%), organic fruit & veg (+333%), eggs (+141%) and bread (+100%).
However, the service continues to experience growing pains, with customers reporting service issues to both The Grocer and on Trustpilot.
There have been dozens of complaints on the review website in recent weeks, with shoppers speaking of deliveries not turning up, poor customer service and products quickly going off.
"Their new delivery men are non communicado. I had a very happy relationship for 10 years (and was pleased to give my milkman a generous Christmas box) with the company but not any more. They now refuse to deliver to my front door and abandon the milk outside the building," one customer said.
"Why do they deliver milk between 11pm and midnight and leave it sitting outside the building for the next 7 hours? This is unhygienic and the milk is often sour."
In response, a Müller spokesman urged affected customers to get in touch with its customer service team, and stressed its "excellent" rating of 4.3 stars out of five on Trustpilot was higher than a number of major supermarket and DTC operators.
"The vast majority of our customers are really happy with our service, we make 1.2 million deliveries every week and we have a 99.9% delivery success rate," he said. "As we work to secure the future of the great British milkman, from a service perspective there will inevitably be bumps in the road. We recognise the inconvenience this causes and we will continue to do everything we can to deliver the best possible service for our customers."
Milk & More had similar issues in February when a prolonged driver shortage caused delays and cancellations as the service struggled to keep up with demand.
In a bid to cope with the heightened coronavirus-related demand, it hired 150 more drivers at the beginning of the pandemic having received 8,700 applications for the roles.