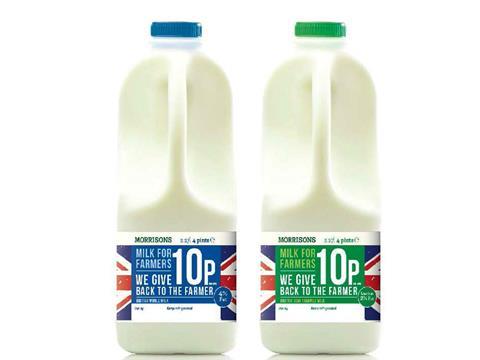 Morrisons' Milk for Farmers range now accounts for 8% of the retailer's milk sales, but it has resulted in less than £300 in extra payments to individual farmers.

The range, which guarantees an extra 10ppl from its retail price directly to dairy farmers, generated an additional £3.7m for members of Morrisons' milk supply group during the 12 months to 14 August, according to research by AHDB Dairy.

But with all of Arla's 12,700 farmers across Europe benefiting from the scheme, each dairy farmer received an average payout of just £290. Had the extra money been paid to British farmers only, each farmer would have received £1,300, said AHDB analyst Patty Clayton.

Milk for Farmers milk now represents about 8% of Morrisons' total standard fresh milk sales, having been as high as 12% last November [Kantar Worldpanel].

But while consumers expressed "a willingness to pay more for milk - and the data shows some do act on this - given a choice between Milk for Farmers and a lower-priced option, most consumers revert to choosing the cheaper option", Clayton said.

"From the Morrisons experience to date, it is questionable if this type of scheme provides much benefit to farmers while cheaper fresh milk alternatives remain available, given the relatively low uptake by consumers."

However, NFU dairy board chairman Michael Oakes defended the range, pointing out it had been difficult to get any extra money into the dairy sector. "To that end, we've supported this scheme alongside the ones put in place by other retailers, all of which add value to milk and dairy products."

Since launching Milk for Farmers, Morrisons has also launched a range of cheese, butter and bacon products under the 'For Farmers' brand.
Morrisons' response
Morrisons initially declined to comment but later said its own figures, from October 2015 to October 2016, put the amount paid to Arla farmers from Milk for Farmers at £4.8m, equating to £360 per farmer.
A spokeswoman added: "Milk For Farmers gives our customers a choice where they can choose to pay more to help dairy farmers. It has raised £1.296 million for Arla farmers in the UK and this has provided a meaningful payout to them of £360 each over the last 12 months. This is one of a range of measures that Morrisons has introduced to help dairy farmers that include paying a minimum price that has been well above the prevailing market price. Measures like these have provided much needed help during a difficult time for the dairy sector and have been backed by farmers' representatives so we are surprised and extremely disappointed to hear these comments."