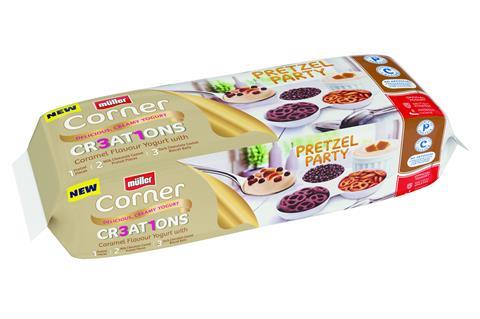 Müller is to add a new Pretzel Party variant to its Corner Creations yoghurts line.
The new SKU consists of a caramel-flavoured yoghurt with a mixture of plain and chocolate-coated pretzel pieces along with dark chocolate-coated biscuit balls.
It will join the only existing Corner Creations SKU – which comes in a raspberry flavour – and will be available exclusively at Tesco from 4 November in a six-pack format (rsp: £3).
"With over 100 new products in the pipeline, we're working really hard to deliver category growth and excitement for our customers and consumers," said Müller's chief marketing officer Michael Inpong.
The news comes on the back of a spate of NPD from the dairy giant in recent months. Most recently, it launched two new mascarpone-style yoghurts to its luxury Bliss range.