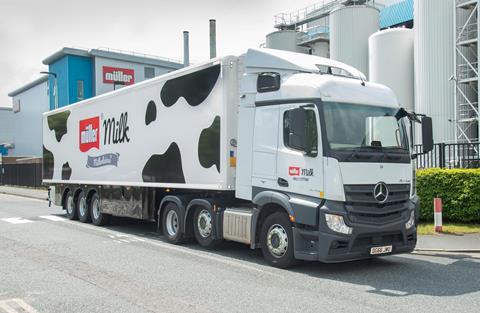 Müller Milk & Ingredients could close at least one of its six UK dairies as part of far-reaching plans to bring the business back into profitability.
The dairy giant launched a 45-day consultation process to review its dairies network on Thursday as part of its Project Darwin cost-cutting drive, which aims to save the business £100m over the next two years.
MMI – which has also announced a distribution and logistics partnership with sister company Culina Group – said the review of its ­dairies network would assess "current and future utilisation and capacity requirements". It stressed it could not rule out "any necessary action", including the closure of manufacturing sites.
The move is the latest step in the Project Darwin plan, launched in February after MMI CEO Patrick Müller warned the business was "not sustainable" in its current loss-making form. Müller UK & Ireland posted an operating loss of £132.9m for the year to 31 December 2017.
It comes a fortnight after MMI announced plans to axe up to 40% of its low-selling milk and cream SKUs in a bid to cut distribution costs and reduce packaging and food waste.
The business is also looking to negotiate more sustainable supply contracts and stepping back from tendering for other, less-profitable supply deals.
Patrick Müller said it was a "matter of considerable regret" the business was considering closure of manufacturing sites.
However, the business had to remain sustainable and address potential over-capacity in its network, he added, while stating Project Darwin was making "excellent progress with the whole workforce fully engaged in securing a vibrant, progressive future for our fresh milk business".
The move meant MMI was showing "leadership in a broken sector", amid plunging margins, Müller told The Grocer. "We're bringing our house in order, and this will allow us to be the leading company in a more sustainable sector".
Distribution deal
MMI's new distribution partnership with logistics giant Culina would "further optimise" its cost base "while maintaining high levels of customer service", the processor said. MMI and Culina, which is owned by the processor's parent Unternehmensgruppe Theo Müller, shared numerous synergies, added Patrick Müller.
The arrangement means Culina will assume the day-to-day management control of MMI Distribution from 1 June, with all 2,500 employees working in the area remaining part of Müller UK & Ireland, with no job losses expected.
Culina would assume control from the point vehicles have been loaded for delivery at Müller's dairies, to the point they were successfully delivered directly to customers or MMI's depots. However, tanker operations bringing milk from farms to MMI's dairies would continue to be managed by MMI, as before.
The agreement brought together the "two major chilled logistics networks in the UK," said Patrick Müller, "ensuring we can further build upon our reputation for great customer service at the lowest cost".
He added: "MMI has the best invested dairy network in our industry, and sector leading quality and shelf life. We have fully recyclable packaging and innovative initiatives to protect dairy farmers from the worst effects of farmgate milk price volatility.
"Combining this with Culina's market leading distribution capabilities gives us an end to end solution which we believe is unbeatable in our industry."