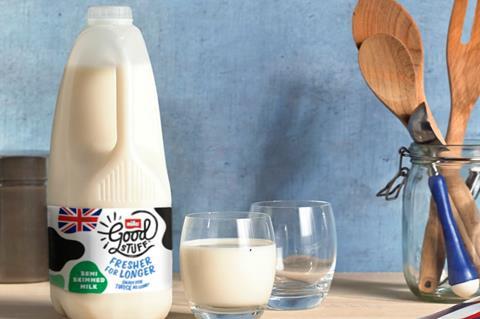 Müller Milk & Ingredients has rebranded its filtered milk line as part of the creation of an all-new milk brand it plans to expand over the course of this year.
Formerly called Müller Milk Fresh. Longer. Why? Filtered, the line is now called Müller Good Stuff Fresher for Longer.
Retailers stocking the product started seeing the new branding appear in fridges this week (rsp: £2.60/two-litre bottle). The revamp will be followed by a wider rollout of the Müller Good Stuff brand across other variants over the coming months.
Sustainability credentials
It follows a relaunch of Müller's core branded milks range (which will not be affected by the rollout of Müller Good Stuff) last year, with a greater emphasis on its sustainability credentials.
Müller said the revamp of its filtered milk line would help shoppers reduce food waste, citing Wrap estimates that about 490 million pints of milk are wasted in the home in the UK each year – with one of the main causes listed as milk not being used in time and going out of date.
The SKU lasts up to seven days when opened, or for up to three weeks unopened.
Redesigned packaging informs consumers that the product is fresh from one of Müller's supplying farms in Britain, with shoppers also informed the bottle is 100% recyclable and contains at least 30% recycled material. 'High in protein' and '100% natural – nothing added' messaging has also been incorporated, following consumer research by Müller.
Fastest-growing
The processor added that filtered milk currently represented the fastest-growing sector in milk, with a 46% increase in retail value sales since 2019, while the core Müller Milk brand had seen 30% volume growth year on year in 2022 [Nielsen EPoS 52 w/e 31 December].
"We know that Müller is a much-loved and well-trusted brand in the dairy category, so there is a growth opportunity to leverage these strong credentials, and build on the encouraging results we've seen for our brand over the last few years," said Helen Priestley, marketing and category director for Müller Milk & Ingredients.
"Following a very successful relaunch of Müller branded milk last year, and with more exciting Müller Good Stuff new product development to come later this year, we're eager for customers and consumers to see this new Fresher for Longer brand," she added.
"We know that shoppers are increasingly mindful of their food waste, while also facing into increased costs of living, so we're confident and excited in this relaunch."