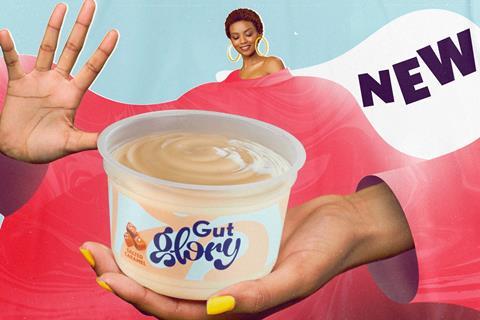 Müller is hoping to inject excitement into the gut health category with a new multimillion-pound marketing campaign aimed at showcasing its Gut Glory yoghurt brand.
It comes after research by the dairy giant found potential consumers were "put off by existing gut health options that were too functional, clinical or scientific".
Running on TV on demand and YouTube from 24 January until 7 March, the animated ad features the voice of a Londoner who flags up the yoghurt's live culture health benefits and encourages viewers to 'get glorious' with the product.
The range arrived on the scene in August last year, carrying what Müller said was an "irreverent tone" and a "contemporary and simple design".
Gut Glory is Müller's first standalone UK yoghurt brand.
Made in Shropshire using milk from British farms, the creamy product is available in Salted Caramel and Strawberry 450g big pots (rsp: £1.80), as well as four-pack 125g pots in Rhubarb, Peach & Mango and Strawberry flavours. (rsp: £2.25).
As part of the marketing push, shoppers who fill in an online form will be given the chance to try a big pot for free.
A mixture of in-store activation and digital marketing featuring digital six-sheets, retailer aisle fins and online digital banners will also run in Asda, Morrisons and Sainsbury's, Müller said.
Müller Yogurt & Desserts CEO Justin Cook dubbed the campaign "bold, irreverent, animated and fun", adding it should "really help Gut Glory stand out from the crowd".
"As we accelerate the development of our business, we intend to set the pace in the categories we serve and innovate to expand our reach, and with Gut Glory, there is a unique growth opportunity for an exciting and contemporary gut health brand," he added.