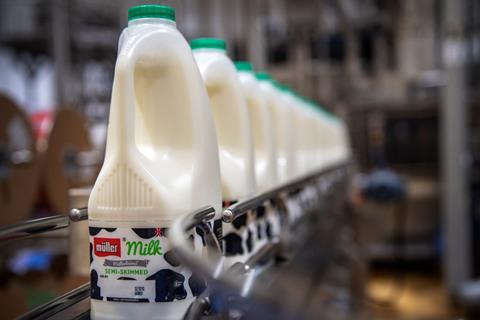 Müller has renewed a partnership with Biffa, which will see it secure the supply of the food-grade recycled high density polyethylene (rHDPE) used in its fresh milk bottles.
The long-term deal comes as demand for rHDPE currently outstrips supply, Müller said.
It follows the removal of 840 tonnes of plastic from its fresh milk packaging last year as part of a lightweighting exercise. Separately, Müller also announced it would ditch plastic straws from its school milk range last November.
Müller's rHDPE fresh milk bottles are already 100% recyclable, and following substantial investment in early 2018 to enable it to manufacture its own fresh milk packaging, up to 40% of the plastic could now be made from recycled material, it said.
"We are more positive about the future because we're turning our fresh milk business into a lean, agile and customer-centric operation," said Müller Milk & Ingredients commercial director Brendan Power, referring to progress made through its Project Darwin cost-cutting plan.
"Our customers have made commitments to use an average of 30% recycled content in their plastic packaging, and consumer demand for innovative solutions continues to grow. We're listening and aligning to their needs."
With most of Müller's packaging made on site, the Biffa agreement "and our unique capability to pursue further in-house innovation", ensured it was able to "offer our customers a leading plastics proposition", he said.