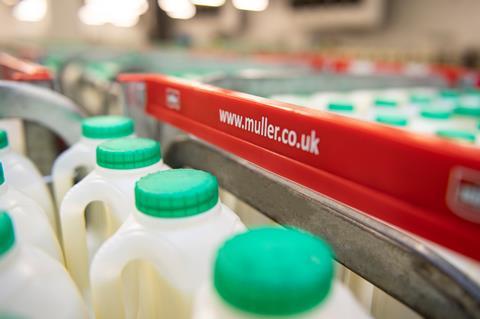 Müller is to incentivise the farmers that supply it with milk to improve their environmental impact of their farms, herd health and supply chain collaboration through the launch of new programme Müller Advantage.
The programme would help around 600 Müller Direct dairy farmers operate successful and progressive enterprises, while also "proactively addressing a range of important issues for consumers and customers", the dairy giant said.
Farmers will be paid an extra 1p per litre from next year (equivalent to £15,000 for a 1.5 million litre per annum producer) for measures including the further reduction of antibiotic use in their herds, sustainable sourcing of animal feed, reductions in energy and water use, recycling and enhancing biodiversity.
Müller Advantage will also incorporate the Müller Next Generation initiative which helps to develop and enhance the skills of ambitious young farmers. Next Generation is seeking its second cohort, following the successful completion of the first programme.
The preogramme replaces the single-year Müller Direct Premium for 2020, which ultimately paid farmers a 1ppl premium to farmers if they fulfilled additional requirements based on improving herd health.
"We aim to be Britain's private-label dairy leader and to get there, we need to be the partner of choice for our customers, farmers and suppliers," said Müller Milk & Ingredients COO Rob Hutchison.
"It is crucial we build on progress already made to date, which includes, for example, a 30% reduction in antibiotic use. With Müller Advantage, we're confident farmers, customers and consumers will benefit."
Participating farmers would also continue to have the opportunity to reduce their exposure to volatile market conditions by placing a portion of their milk supply against fixed prices and futures contracts, the supplier said.